About this Campaign
Rush Soccer is working with One World Play Project to donate ultra-durable Chevrolet One World Futbols to youth in disadvantaged communities in Africa, Asia and Latin America through the R.E.A.C.H. Program. With the Chevrolet One World Futbol, children in these communities don't have to worry about finding a pump or destroying a ball. They can simply play.
This soccer season, join One World Play Project and Rush Soccer in giving the gift of play!
About R.E.A.C.H.
Through the R.E.A.C.H. Program (Rush Equipment Assisting Children), Rush supports disadvantaged youth in developing countries by partnering with soccer clubs, schools, nonprofit organizations and communities to provide soccer uniforms and gear — such as the One World Futbol. By linking equipment donations to on-the-ground programs that develop youth soccer skills and promote health and education, R.E.A.C.H. is contributing to stronger, healthier communities in Africa, Asia and Latin America.
Since the launch of the R.E.A.C.H. Program in 2002, Rush Soccer has distributed hundreds of thousands of pieces of soccer gear to more than 30 developing countries around the world. From tsunami victims and Russian orphans to the children of war-torn Iraq or HIV-ravaged southern Africa, R.E.A.C.H. has given thousands of children a chance to enjoy the game.
Chevrolet's Partnership with Rush Soccer
In July 2013, Chevrolet announced a two-year sponsorship of Rush Soccer. The Chevrolet bowtie now appears on 70,000 Rush Soccer jerseys across the U.S. Chevrolet is the Official Automotive Partner of Rush Soccer and is Rush's first shirt sponsor in its 11-year history. For more on the sponsorship, click here.
For more on Rush Soccer and R.E.A.C.H., visit www.rushsoccer.com/reach.
Ways to Participate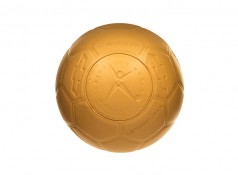 Through the Give Balls program, you can buy a Chevrolet One World Futbol for $25 U.S. that will be donated and shipped directly to children in the disadvantaged communities in which R.E.A.C.H. works. If you'd like to get a Chevrolet One World Futbol for yourself and still support this campaign, the Buy One, Give One program is for you.
Plus, for every Chevrolet One World Futbol purchased through this campaign, One World Play Project will donate $5 U.S. to Rush Soccer.