How We're Making a Difference
The Have a Ball! Foundation is a group formed by recent Master of Science in Kinesiology graduates from Point Loma Nazarene University. As current health practitioners and enthusiasts, we have come to appreciate the physical, mental and emotional benefits that play and exercise has on people all around the world. In 2003, the United Nations actually turned to sport to rehabilitate children scarred by war and child labor. In addition, they looked to accomplish 5 major things:
1. Eradicate extreme poverty
2. Achieve universal primary education
3. Promote gender equality and empower women
4. Reduce child mortality
5. Combat HIV/AIDS and other diseases
All of this can be accomplished through the act of play! Unfortunately, children in isolated communities, suffering from poverty and disease, have limited to no access to physical activity. We have made a commitment not only to deliver sport for all, but we intend to bring a smile to the faces of many children around the world in the form of recreation! How can you help?
We're running this campaign with One World Play Project to raise ultra-durable One World Futbols, soccer balls that never need a pump and never go flat. Unlike standard soccer balls, which puncture and break easily due to rough terrain, One World Futbols are proven to last for generations.
Our first mission will take place at two orphanages in Tepatitlan de Morelos, Jalisco, Mexico. We are also working with Hope for Haiti, the Awassa Project in Ethiopia and The Citizens of Burma in Myanmar.
We wanted to give you the ability to personalize your ball! With each donation, we will ask what you would like drawn on the ball that represents something significant to your life. Our talented team of artists will then add your suggestion to the ball, ensuring each donation is unique. Your ball will then be hand-delivered to the children in need. They will also draw something of significance to themselves on the ball and we will share the pictures with you! In doing so, we are creating a forever bond between you and the recipient, united by the One World Futbol.
We hope to provide an outlet for these kids facing numerous hardships. Unfortunate circumstances surround them, but we believe the promotion of play in these areas will remind these children to have fun. Our main goal is to use sport and recreation to provide smiles on the faces of children across nations. Help us make a difference, and support our campaign today!
How You Can Help
Through the Give Balls program, you can buy a One World Futbol for $28 U.S. that will be given to The Citizens of Burma, Hope for Haiti and Awassa Project.
Campaign Goal
Through this campaign, we want to raise more than 100 One World Futbols.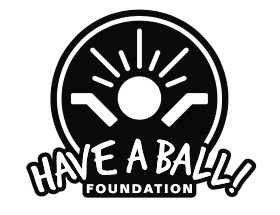 Campaign Stories
Check out the stories below for more info about the Have a Ball! Foundation campaign: