Partnership With Native Americans
Support programs for youth living on the reservations
One World Play Project is partnering with Partnership With Native Americans (PWNA) to bring the power of play to youth living on Native American reservations.
PWNA is championing hope for a brighter future for Native Americans living on remote, isolated and impoverished reservations. Collaborating for more than 25 years with their reservation partners, PWNA provides consistent aid and services for Native Americans with the highest need in the U.S.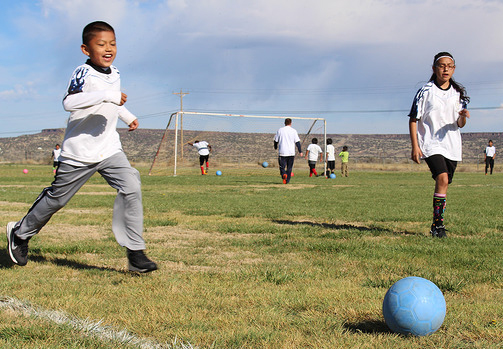 American children are living below the poverty line, and the average life expectancy for Native Americans trails that of other Americans—they are 600% more likely to die from heart disease than other Americans, 226% more likely to die from diabetes and 600% more likely to die from tuberculosis (2006, Indian Health Disparities).
Your tax-deductible donations will help support PWNA programs that bring play and sport to youth (and adults) living on the reservations. Your contributions will be tax-deductible to the fullest extent of the law. SVCF will provide a formal acknowledgment letter containing tax-deduction language for your records.
About Silicon Valley Community Foundation
Through a special project fund at Silicon Valley Community Foundation, you can support One World Play Project's charitable activities with a tax-deductible donation. Donations will be processed by SVCF, a 501(c)(3) public charity registered in the United States, EIN# 20-5205488. Learn more at siliconvalleycf.org.
WAYS TO MAKE A TAX-DEDUCTIBLE DONATION:
1- With Credit Card or Paypal
The easiest and fastest way to support our initiatives


2- By check
Checks can be made out to "Silicon Valley Community Foundation." Please include "One World Play Project - Native Americans" on the check and send it to:
- Silicon Valley Community Foundation
- Attn: Gifts Administration
- 2440 West El Camino Real, Suite 300
- Mountain View, California 94040-1498
3- By phone
You can also make a tax-deductible donation by phone with your credit card by calling +1.650.450.5444. Please indicate that your donation is for "One World Play Project - Native Americans"
Have a question? Feel free to contact us at donate@oneworldplayproject.com or call us at 1.510.948.3225
____________________________
More Donation Opportunities
Refugee Communities - Play Together
Disaster Relief and Recovery
Our donation homepage