Calling All Canines—Play Time will Never Be the Same with the New Durable RhinoPlay™ Dog Toys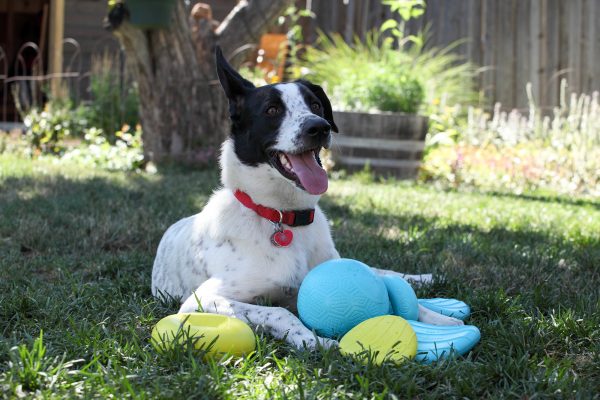 Calling All Canines—Play Time will Never Be the Same with the New Durable RhinoPlay™ Dog Toys
New RhinoPlay line from One World Play Project® and Worldwise, Inc. features "dog-durable" toys that promote play while giving back
Berkeley, CA—November 2, 2016—Rambunctious dogs rejoice! Starting today, the RhinoPlay™ line of "dog-durable" toys is available from One World Play Project, creators of the award-winning, ultra-durable One World Futbol™. The new line was developed in partnership with Worldwise, an industry leader of smart, stylish and environmentally-responsible pet products, and is part of the popular Worldwise goDog® brand.
The new RhinoPlay collection further extends the One World Play Project mission to champion the power of play—not just for people, but now for dogs, too. Every purchase supports animal charities that enable and promote the therapeutic, emotional and educational benefits of the human-animal bond through companionship and play.
"We are excited to partner with Worldwise to extend our mission and bring the power of play not only to children and adults, but to pets, too," said John Heymann, CEO of One World Play Project. "Our proprietary technology makes the RhinoPlay pet toys uniquely suited to withstand the roughest play and most aggressive chewers. Together with Worldwise and our partner organizations, we are creating more opportunities for people and pets to experience the joy and healing benefits that come through play."
Not Your Ordinary Dog Toy
Leveraging the innovative technology of the One World Futbol, the goDog RhinoPlay toys are made from PopFoamNT™, a unique lightweight material that is extremely durable, floats in water and is non-toxic to pets and humans—making it perfect for chasing, chewing and playing fetch. The new dog toys have a minimal environmental impact in the production phase and adhere to the strictest U.S. and European children's toy safety standards.
The RhinoPlay line includes 4 new toys in two sizes for large and small dogs:
Consumers receive 10% off their purchase when they purchase two or more RhinoPlay toys at oneworldplayproject.com. More details about the products can be found at oneworldplayproject.com/dog-toys.
"RhinoPlay is truly unlike anything else in the pet toy marketplace, and Worldwise is thrilled to work with One World Play Project to launch the newest innovation to the globally popular goDog brand," states Neil Werde, Managing Director of Canine Toys and Accessories at Worldwise, Inc. "The RhinoPlay line is a game-changer in the pet toy category, offering pet parents a line of safe, durable, play-focused products that offer an opportunity to give-back as well."
Go Play and Give Back
Similar to all One World Play Project products, the RhinoPlay line enables consumers to buy and give back. For every purchase of a RhinoPlay toy, a portion of proceeds will be donated to organizations that enable the benefits of play between dogs and people, including children with special needs, hospital patients, veterans, seniors—and their dogs too! Organizations participating in the give back program, include:
All RhinoPlay toys are available now at oneworldplayproject.com, at select pet-specialty retail stores and online retailers.
About Worldwise®
Worldwise® believes that sustainable living is easier when it's a natural choice. Brands such as SmartyKat®, TrustyPup®, Petlinks®, kathy ireland® Loved Ones, goDog®, Hear Doggy!®, SHERPA®, and Guaranteed On Board™, have been constantly evolving through innovative, solution-based and proprietary product designs that make it easy and affordable for you to satisfy your pet's most important needs.
For more information on Worldwise, visit www.worldwise.com. For more information on goDog, visit www.goDogFun.com.
About One World Play Project
One World Play Project is a mission-driven business that aims to champion play in all its forms— anywhere and everywhere. We make, sell and distribute products and services to enable play around the world, especially for those living in the harshest environments where play is nearly non-existent. The company is a B Corporation, harnessing the power of business for social good. Collaborating with sponsors, organizations and individuals, One World Play Project has brought the power of play to more than 48 million youth in over 175 countries worldwide.
One World Play Project is headquartered in Berkeley, CA with distribution centers in Fremont, CA and Voerde, Germany. For more information, visit www.oneworldplayproject.com or check out our community on Facebook, Twitter, LinkedIn and Instagram.