More than 90 Thousand Children Will Benefit with Indestructible Balls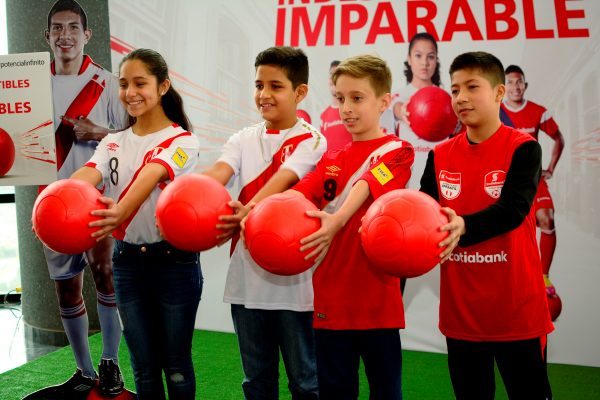 Unstoppable & Indestructible
➢     Scotiabank, in partnership with "One World Play Project", will donate 1,800 balls as part of the Social Responsibility program.
➢     The balls will reach children in Lima, Piura, Arequipa, Junín, Lambayeque, La Libertad and Iquitos through the various partner NGOs.
Lima, August 15, 2018. – As part of its commitment to child and youth development through football, and within the framework of the Scotiabank Futbol Club program, Scotiabank will donate 1,800 "indestructible balls" to educational institutions selected at the national level through various partner NGOs such as PLAN International, Care Peru, Creer Foundation, Pure Art, Kantaya and Special Olympics, among others. The donation, made in partnership with One World Play Project, seeks to generate a positive impact and develop the maximum potential in children from various communities with limited resources across the country.
Scotiabank and One World Play Project are working as a team to provide children and youth with the opportunity to play. The One World Play Project football is designed to survive the most difficult terrain conditions in any city, does not require an inflator and does not deflate. Where traditional balls fail, the one of One World Futbol keeps going.
"At Scotiabank we seek to contribute to the society in which we participate because we believe that everyone has the right to be better off. Sport is one of our lines of work and through it we turn to children to help them develop their passion and values. We want to help reinforce respect, integrity, diversity, responsibility, and commitment. We want to help awaken the infinite potential of our children and youth. All this is part of our philosophy of community soccer, a culture of Passion with Values, to build a better society, "said Ignacio Quintanilla, Senior Vice President and Retail Head of Scotiabank.
"On this occasion, through an alliance with One World Play Project, we are donating Indestructible and Unstoppable balls. The characteristics of Peruvian children that make a better Peru, "concluded Quintanilla.
Lisa Tarver, founder of One World Play Project and head of social impact, commented; "Having the opportunity to play is extremely important for children and young people, because what they learn by playing can change their lives and their communities. Scotiabank has assumed a crucial leadership role in our global movement. Through our partnership, Scotiabank is helping to inspire thousands of children and young people in Peru to realize their enormous potential. "
This project builds on other social responsibility initiatives that Scotiabank is executing: the documentary Soñando con el Futbol, ​​broadcast by National Geographic and Fox networks; the alliance with FC Barcelona, ​​announced in 2016; the Campos de Futbol program, which has already renovated and delivered four soccer fields located in Cusco, Iquitos and Lima; and the Scotiabank National Children's Soccer Championship, which is in its third edition and awards the winning team with an experience at La Masía, FC Barcelona's training center. These last two initiatives have been working hand in hand with Renato Tapia and Edison Flores from the Peru National Selection, soccer ambassadors of the bank that embody the integrity, passion and responsibility to which the stars of tomorrow should aspire.
Hashtag: #InfinitePotential
About Scotiabank
Scotiabank is Canada's international bank and a leading financial services provider in North America, Latin America, the Caribbean and Central America, Europe and Asia-Pacific. We are dedicated to helping our 24 million customers become better off through a broad range of advice, products and services, including personal and commercial banking, wealth management and private banking, corporate and investment banking, and capital markets. With a team of more than 89,000 employees and assets of over C$926 billion (as at April 30, 2018), Scotiabank trades on the Toronto (TSX: BNS) and New York Exchanges (NYSE: BNS). For more information, please visit www.scotiabank.com and follow us on Twitter @Scotiabank.