One World Futbol, The World's First Nearly Indestructible Football, Launches in the UK with Footballing 'Streetstylers' Taking to Carnaby Street
London, England – March 18, 2014 – One World Futbol Project has brought its global "Buy One, Give One" model to the UK and hopes to continue to encourage outdoor play alongside humanitarian aid. The nearly indestructible footballs can withstand the roughest terrain and, for every purchase in the UK, a ball will be donated by One World Futbol Project to disadvantaged communities around the world.
To mark One World Futbol Project's UK programme it has teamed up with internationally-renowned football freestyler, Ash Randall, who performed tricks down Carnaby Street with more than 50 young football fanatics from the King Solomon Academy in Westminster to raise awareness of the launch.
One World Futbol Project was inspired whilst Tim Jahnigen was watching news footage about traumatised refugee children in Darfur playing football on dirt, using a ball made by from twine. Tim realised there was a global need for a nearly indestructible ball that could withstand the harsh conditions often faced by young people living in refugee camps, disaster areas and other disadvantaged communities. The idea for the One World Futbol was born.
Tim set out to design a ball that would never need a pump and never go flat, even when punctured multiple times. Tim's idea remained in the concept stage until a conversation with global music icon and friend, Sting, who understood Tim's vision and provided the initial funding to research and develop a One World Futbol prototype.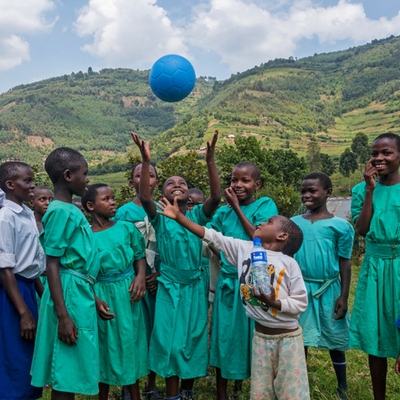 In recognition of Sting's crucial early support the name of the ball and the company are based on his song "One World (Not Three)". The One World Futbol has now reached more than 165 countries, bringing the joy and healing power of play to millions of children worldwide.
One World Futbols are tough enough to withstand the roughest landscapes in the world but are just as useful on the beach, at home or on the street. Buy a One World Futbol for £33.00 from www.oneworldfutbol.com and choose which of the Project's partner organisations you would like to receive your donated ball.