One World Play Project Launches Play Together Campaign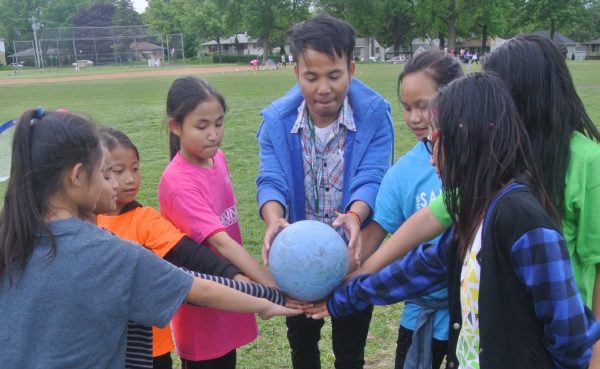 One World Play Project Launches Play Together Campaign on World Refugee Day
June 20, 2017—BERKELEY, CA—One World Play Project today launched the Play Together campaign to bring the power of play to refugee youth through donations of One World Futbols. Inspired by refugee children in Darfur, the One World Futbol is an ultra-durable soccer ball that never needs a pump and never goes flat, making it ideal for the rough environments where many refugees live and play. The Play Together campaign kicks off on World Refugee Day and will run through the end of 2017, raising ball donations for refugee youth from around the world who have fled their homes due to war, conflict and other threats. Watch the campaign video.
According to statistics from the United Nations High Commission on Refugees (UNHCR), of the nearly 21.3 million refugees worldwide living in exile, more than half are under the age of 18. This number does not include another 44 million men, women, and children displaced inside their own countries. The UN Refugee Agency estimates that refugees are uprooted from their lives for an average of 17 years.
"While a lot of focus is on the Syrian refugee crisis right now, there are still millions of refugees from Sudan, Haiti, Rwanda, Tibet, and nearly sixty other countries living in exile. It's amazing when you realize how many people globally have been displaced and traumatized by the loss of their homes, their communities and their families," said John Heymann, CEO of One World Play Project. "For refugee children and adults, play builds community, empowers individuals and helps alleviate trauma."
Why Play?
Research shows that play helps individuals recover from trauma and cope with challenging situations while encouraging physical, psychological and social health. Play has the power to bring individuals together—no matter what their country, culture, age or religion. It gives refugee children an opportunity to make friends and build connections not just with other refugees but also with youth from their new communities.
Through One World Play Project's Play Together campaign, individuals can bring the power of play to refugee youth around the world by simply giving balls to our partner organizations. Go to oneworldplayproject.com/play-together to:
Give Balls: Give an ultra-durable One World Futbol for $25 USD directly to Play Together partner organizations
Buy One, Give One: Get a One World Futbol for $39.50 or $44.50 USD, and One World Play Project will give a second ball to our partners.
Supporters can also follow One World Play Project on social media and share the campaign using the hashtag #PlayTogether. Ball donations generated during the campaign will support five partner organizations using play and sport to empower refugee youth across the globe:
An Ultra-Durable Ball Can Make a Difference
Traditional soccer balls don't last long on the rough terrain that passes for a soccer pitch in the places where many refugee children play. The One World Futbol was designed to outlast hundreds of traditional inflated balls, making it ideal for use in harsh environments such as refugee camps, disaster areas, inner cities, conflict zones and other rough landscapes.
Since the company's launch in 2010, One World Play Project has been bringing One World Futbols and the power of play to kids who are living in refugee camps or who have been displaced from their homes. By partnering with local and international organizations in 28 countries, the company helps provide opportunities for ongoing play to build community and empower refugee and immigrant youth worldwide. As of March 2017, more than 71,000 One World Futbols are in play in refugee camps and communities in the Middle East, Europe, Africa, Asia and the Americas—impacting an estimated 2.1 million refugee youth and adults.
About One World Play Project
One World Play Project is a mission-driven business that aims to champion play in all its forms— anywhere and everywhere. We make, sell and distribute products and services to enable play around the world, especially for those living in the harshest environments where play is nearly non-existent. The company is a B Corporation, harnessing the power of business for social good. Collaborating with sponsors, organizations and individuals, One World Play Project has brought the power of play to more than 51 million youth in over 175 countries worldwide.
One World Play Project is headquartered in Berkeley, CA with distribution centers in Fremont, CA and Voerde, Germany. For more information, visit www.oneworldplayproject.com or check out our community on Facebook, Twitter, LinkedIn and Instagram.
# # #
Note to editors: If you are planning any stories for World Refugee Day and would like to include coverage of the #PlayTogether campaign, we have the following resources to offer:
Interviews with partner organizations
Refugee Statistics from United National High Commission on Refugees (UNHCR)
B-roll of refugee children playing soccer
Video interviews of refugee children talking about life in refugee camps, moving to the US, and what play means to them
Transcriptions and still images from video interviews
Photos and testimonials from partners