#TakeUsWithYou Movement Brings Together Inspirational People Making A Difference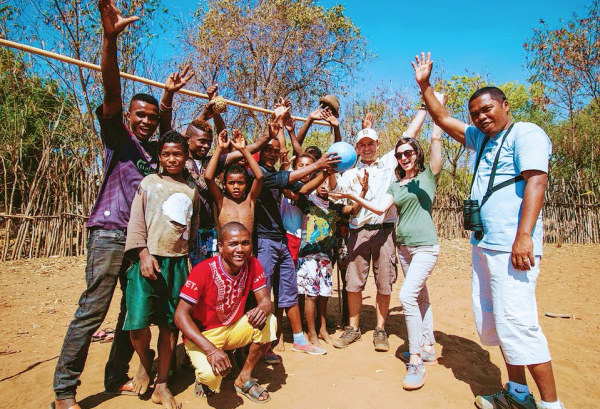 March 13, 2019—BERKELEY, CA.—With spring break and summer vacation fast approaching, travelers can #TakeUsWithYou and make the most out of their trips. #TakeUsWithYou is a movement that brings together inspirational people looking to make a difference by donating unpoppable One World Futbols. Bringing a ball and giving this to a community that doesn't have one is great. Donating one that lasts for years is even better.
At One World Play Project, we connect with many people who return from their trips and travels "deflated" because they bought ordinary balls, only to have the balls they have donated pop within a few hours, or even a few minutes. Whether the fields were too thorny or they lost the pump needle, there are reasons people come home and instantly go to Google and search the phrase "unpoppable ball."  
The Unpoppable One World Futbol answers to their search and solves this problem. Inspired by refugee youth, this ultra-durable ball is built to last on all types of terrains, bringing the power of play to youth who need it most. It was specifically designed to outlast ordinary soccer balls and never needs a pump and never goes flat, even when punctured. [Check out these Youtubers testing how tough the ball is.]  
Research has shown that play is critical for the healthy physical, social and emotional development of children, especially those living in disadvantaged communities. As we travel and trek and connect with communities we visit, what better way than to engage than through soccer and, with a donation of One World Futbols, to leave a lasting legacy of play.  
To join the #TakeUsWithYou movement and impact youth through play, simply:
Buy balls

(20% OFF with code

takeuswithyou

)

Donate balls on your trip

Post about your trip and tag us

Use hashtag #TakeUsWithYou

We'll share your story with our 100k followers!



In addition to making an impact on the communities they visit, traveler's purchases will go even further as One World Play Project gives 5% of sales to providing play resources to our partner organizations. Currently, we're using proceeds to provide unpoppable balls to Feed The Children and Ethiopia Reads.
Bring balls on your next trip and let's make a difference — TOGETHER!  Click here to get started.
# # #