7 holiday donation ideas for Giving Tuesday
'Tis the season of joy and giving, and what better way to celebrate than by giving the joy of play to those who need it most? Don't know where to start? We've got you covered with seven holiday donation ideas.
Through our Play Together campaign, One World Play Project is partnering with seven incredible organizations that are helping refugees, immigrants and internally-displaced people in communities around the world. We're raising ultra-durable One World Futbols for their play-based programs.
Check out our Play Together recipients below, and donate One World Futbols to support their programs today.
The Sanneh Foundation
St. Paul, Minnesota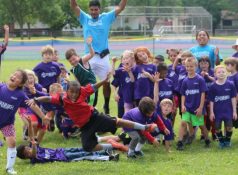 The Sanneh Foundation runs in-school and after-school support programs for refugee, immigrant and low-income youth.
"Most refugees are leaving an unhealthy situation, and it's very hard for a child. A child isn't a child if he can't play. One of the most comforting things we can do for every refugee family is provide them with a soccer ball, so their kid knows something that's familiar to them." – Tony Sanneh, CEO, The Sanneh Foundation
---

Soccer In The Streets
Clarkston, Georgia
Soccer In The Streets brings refugee youth and families together; runs activities to prepare youth for life; and provides opportunities for youth to give back.
"Soccer In The Streets is like a family to me because, when I first came, I wasn't really that good and now I've trained with them and I've done everything and I've really done some improving." – Chris, program participant, Soccer In The Streets
---

Whitaker Peace & Development Initiative
South Sudan & Uganda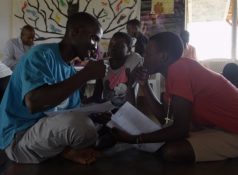 Within refugee and internally-displaced people camps, the Whitaker Peace & Development Initiative (WPDI) provides young people and their communities with the tools necessary to create lasting peace in their environment. WPDI uses sports as a social unifier and rule-based activity.
"Now my life is changed from before. Football has given me a chance to have hope and to understand that I am being given knowledge to become a powerful peacemaker. I feel that I am improving in football every day." – Emad Rajab Said, program participant, WPDI Uganda
---

Aniko FC
Derveni, Greece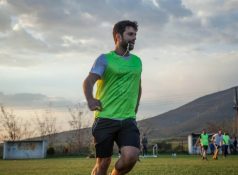 Aniko FC works with refugees of all ages and nationalities to provide psychosocial support and strengthen community bonds.
"Most players we have had with us at Aniko FC are adults, which means that they have had a previous experience with football at some point in their lives. Amongst their difficult journey, they have forgotten about their right to play and have access to health … The fact that most of them come to every session and ask for more shows me that we are on the right path." – Thomas Farines, project manager, Aniko FC
---

International Sports & Music Project

Chalkida, Greece
Within Ritsona Refugee Camp, International Sports & Music Project (ISMP) is creating sports and music opportunities for refugees and immigrants.
"People living at Ritsona have been through a lot, and their journey to a free life is only beginning. But while people wait, it's important to have an expressive outlet and something to be passionate about. Playing soccer fills this need. It allows these refugees to release their emotions and do something they love." – Jason Steinberg, executive director, International Sports & Music Project

---

Muti Onlus
Italy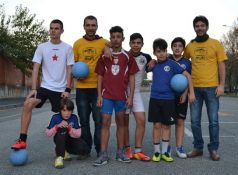 In Turin, Milan and Florence, Muti Onlus runs soccer for social inclusion programs for refugees, immigrants and local youth.
"One of the things about football is that it's a universal language. You don't need to know the language of the other kid you're playing with. Football unites everyone. Through football, kids can all have fun together." – Matteo Bottanelli, co-founder, Muti Onlus
---
Hermanos en el Camino
Mexico
In shelters throughout Mexico, Hermanos en el Camino provides a bed and a meal to immigrants as well as moments of play. Hermanos en el Camino recognizes that play provides moments of temporary relief.
"The best gift a migrant can get, child or adult, is a soccer ball that will allow them to bring fun and healing along the road with them." – Marbella Gutierrez, psychotherapist