Donating soccer balls to kids in Africa—among grazing cows
by Peter Bernhardt
What's known as "soccer" in the U.S. is "futbol" or "football" to the rest of the world. Regardless of name, the game itself has the same draw and impact worldwide: it has the power to bridge connections among people, countries and cultures. That was certainly the case during my recent trip to Uganda with the 52 Kids Foundation.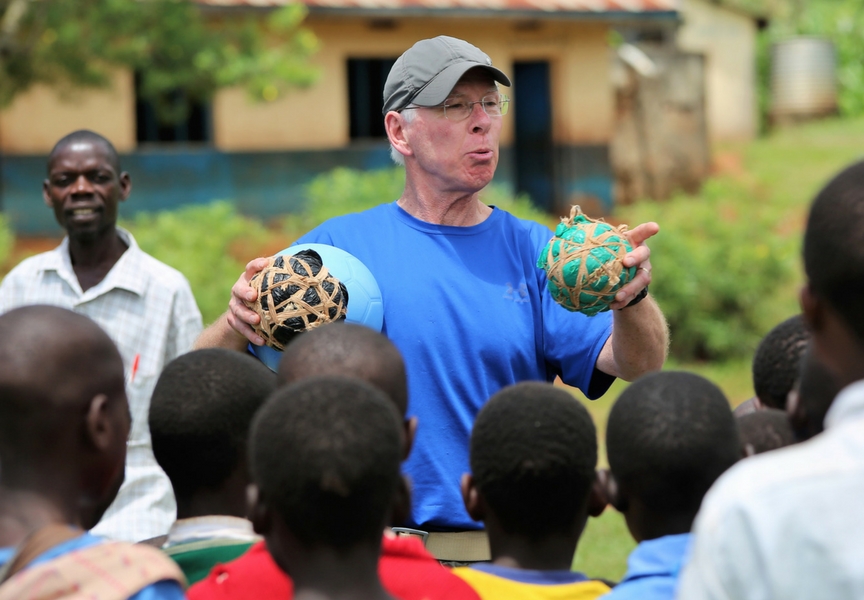 Since 2004, the Vermont-based 52 Kids Foundation has striven to advance sustainable progress and enterprise in Kamuli, Uganda and empower more than 60 Ugandan children to live positively without aid. The 52 Kids Foundation believes in the power of education, empowerment and employment. We believe that education is a stepping stone to greater things and that—with strong community support, good health and nutrition—our members are empowered to reach their full potential.
Our foundation covers school fees for children who would otherwise not be able to attend school. We cover medical expenses, build water wells and safe, fuel-efficient stoves. We've built a dormitory to cut down on long commutes to school; we provide career-oriented counseling; and we assist in post-school job placement.
Five years later: what changed? What stayed the same?
I visited Kamuli five years ago and felt it was time to return and see my friends, the kids, again. While my life has changed throughout the past five years—I retired, have more grandchildren and a new knee—life in Kamuli remains virtually untouched with one exception: the kids.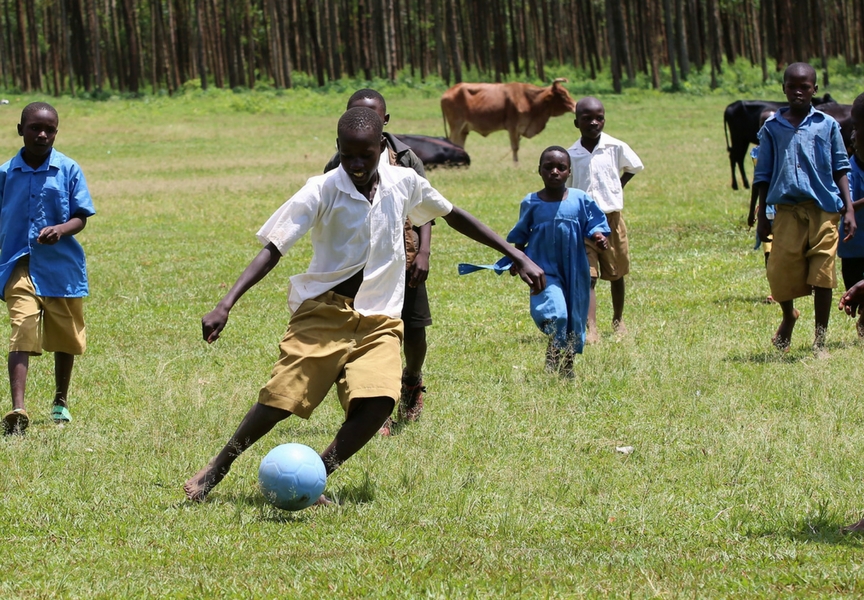 Since I last visited Kamuli, the kids have grown more confident and mature. The amount of growth is remarkable, particularly knowing where these kids come from. We saw the growth in each of the children we visited with, and we also saw it while celebrating the graduation of some of the older kids—now young adults—who are becoming gainfully employed as electricians, nurses and midwives, to name a few. It was a proud and empowering moment for the students, the community and our team to see how far they've come.
The opportune moment to donate soccer balls to Africa
Knowing how much the kids love to play and how tough it is for ordinary soccer balls to survive the tough Ugandan terrain, I carried two ultra-durable One World Futbols with me to Uganda. The One World Futbols are perfect for playing on fields that are covered in rocks, twigs and livestock.
We gave the first ball out to a soccer team at a vocational school near Kamuli. As for the second ball, I wanted to find a remote field in a village filled with children playing soccer. I wanted to share the ball with a community where the passion for soccer was clear to see. In Uganda—and most places in the world—children who don't have an ordinary soccer ball often construct one from garbage wound tightly and bound by tape or rope. With this in mind, I kept an eye out for such a scene during our visit.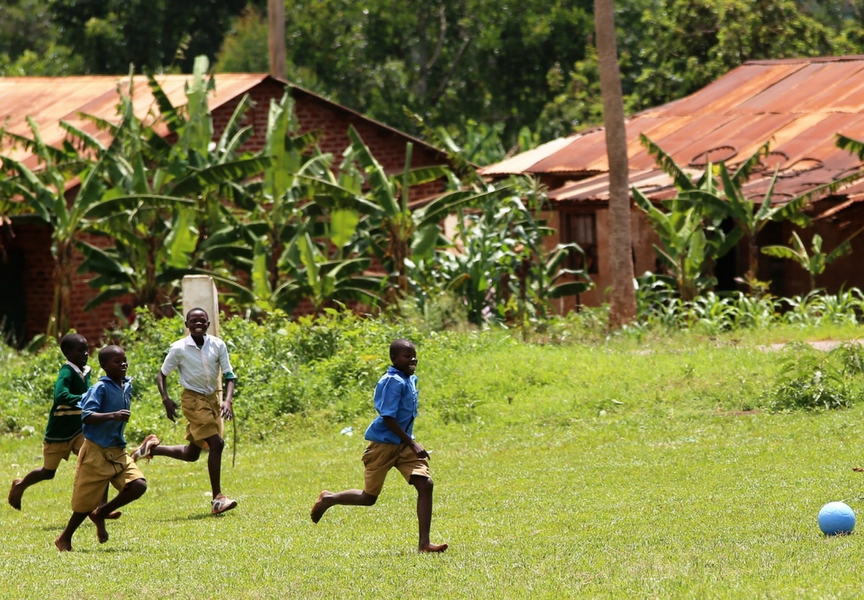 It was on our last day on our drive back to Kampala that we encountered the scene I'd been looking for.
Witnessing the unbridled joy of play
As we drove by a slightly-tufted field, we saw 300 students chasing two homemade balls among grazing cows during recess. Our team smiled. We knew this is where we wanted to donate the second ball. So we turned and drove our van toward the field. As we approached, the play slowed and the children turned to take our group in.
We opened up the door to our car, and I had the One World Futbol in hand. Frank, our driver and the local executive director for the 52 Kids Foundation, found the headmaster of the school and explained what we wanted to do. The students gathered around with wonderment in their eyes. Frank provided a brief introduction of the One World Futbol, and then, the ball was released. The kids went nuts! Everyone—all 300 students—chased and kicked the ball through the field of grazing cows.
Having coached youth soccer for years, I'd seen this before, albeit with way less children. That day in Uganda, I realized the pure joy soccer brings to so many children around the world. Soccer truly is the world's game, and my hunch is that the ultra-durable One World Futbol is still the center of attention during recess on that remote school field.
Peter traveled to Uganda with One World Futbols and distributed the balls to schools surrounding Kamuli. You, too, can give One World Futbols as you travel—or in your own backyard.