Be an international volunteer soccer coach with Coaches Across Continents
We often receive questions from our supporters asking how they can get involved with our mission and volunteer with us out in the field. Not surprisingly, travel, new friendships, cultural exchange and global adventures all in the name of play are intriguing to many. We understand why we get asked these questions and often find ourselves yearning for the same international volunteer experiences.
While One World Play Project doesn't run sport for social impact programs, we have a large network of amazing partners who do. So when questions about international volunteering come our way, we instantly think of Coaches Across Continents. A longtime partner of ours and a recipient of our Make Life PlayFull initiative, they offer a one-of-a-kind experience for those seeking a blend of play, travel, soccer and coaching.
Why Coaches Across Continents?
Coaches Across Continents uses sport as a vehicle to create self-directed learners who can identify, address and solve problems specific to their communities. Their unique, adaptable curriculum empowers people to question harmful traditional, cultural and religious practices; choose their own futures; and create change.
Coaches Across Continents also provides opportunities for their volunteer soccer coaches to play a big role within the organization. You won't be sitting on the sidelines; you'll be assisting with, and perhaps even leading, games and discussions.
What's it like to be an international volunteer soccer coach with Coaches Across Continents?
Out in the field, volunteer soccer coaches—that's you—support the Coaches Across Continents staff to implement community partner programs.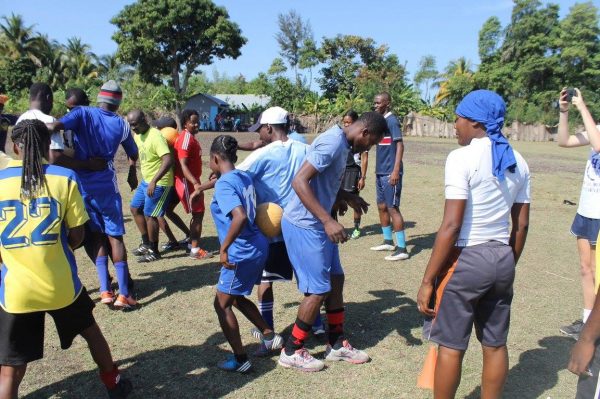 Coaches Across Continents volunteers …
– assist with trainings by running social impact through sport games from the Coaches Across Continents curriculum
– write up Coaches Across Continents games and children's rights policies for the community program participants to copy and adapt
– reflect on their experiences by writing blog posts and sharing photos and videos
– fundraise and provide updates to their donors on their activities, so they're engaged with the organization
Trips range in length from two weeks to six months, and since Coaches Across Continents runs programs in more than 90 communities throughout the year, they can tailor your soccer volunteering trip to match your availability.
Coaches Across Continents runs an incredibly personal program that's life-changing for the volunteers as well as the community partners. If you're interested in seeing more of the world while also volunteering in the world of sport for social change, volunteer with Coaches Across Continents. It's a can't-miss opportunity. But don't take our word for it. We asked CJ Fritz—a freshman at Whitman College who's been a volunteer soccer coach with Coaches Across Continents for eight months in Brazil, Colombia, Haiti, Indonesia, Peru and Tanzania—to share a bit about his experiences with you.
Join One World Play Project and Coaches Across Continents to Make Life PlayFull
One World Play Project recently launched our Make Life PlayFull initiative, focused on inspiring and encouraging people anywhere and everywhere to incorporate moments of play into their daily lives.
Through the campaign, we're partnering with Coaches Across Continents to raise One World Futbols—soccer balls that never need a pump and never go flat—for their amazing programs. Want to support the playful, life-changing work of Coaches Across Continents? You can give a One World Futbol today!

Related articles
Join us to Make Life PlayFull
Coaches Across Continents: making play fair & equal for all
Using soccer to rehabilitate former child soldiers & sex slaves