Kid-friendly travel: a Tea Collection family adventure in Italy
Guest blog post written by Tea Collection
In October 2015, Tea Collection Co-founder Leigh Rawdon, her husband David and sons Adam (9) and Matthew (7) embarked on a family adventure in Italy. Motivated by the Tea designers' inspiration trip for their spring 2016 collection and excited to kick off Tea Collection and One World Play Project's Citizens FC program, Leigh and her family made their way through Italy with one very important stop in Turin. Follow along as Leigh shares her favorite kid-friendly travel spots in Turin, including a must-see FIAT factory … and gelato, of course!
My family and I traveled to Turin to celebrate and be part of the first ever Citizens FC soccer tournament alongside Muti Onlus, One World Play Project and Tea Collection. While our time in Turin was limited, we were determined to experience as much of the city as we could.
We took a tour of Juventus Stadium and also visited a track on top of the old FIAT factory, where the company used to test its cars! If you find yourself in Turin, make sure to visit a few of our favorite spots. No trip planned? Perhaps this will inspire your next family adventure!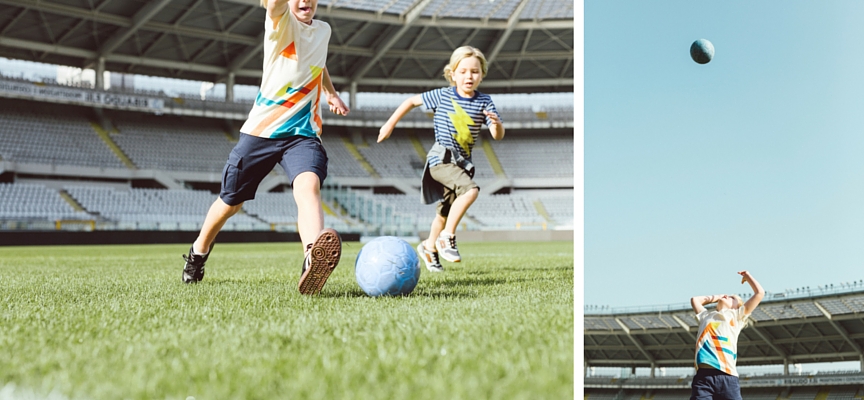 Juventus Stadium
Address: Corso Galileo Ferraris, 32, 10128 Turin, Italy
Website
The Juventus Stadium, or what's commonly referred to as simply "the Stadium" in Turin, is a beautifully-designed stadium where Juventus Football Club has played since 2011. While my boys thought the stadium was gigantic, they learned that it's actually much more intimate than Juventus' previous stadium, which was built to host the 1990 World Cup and seated more than 67,000 people. We tested out a few seats and found that no matter where you sit you seem to have a great view. Matthew and Adam loved learning about the stadium's history and were honored to walk and play on the same pitch as many of the great Italian football stars.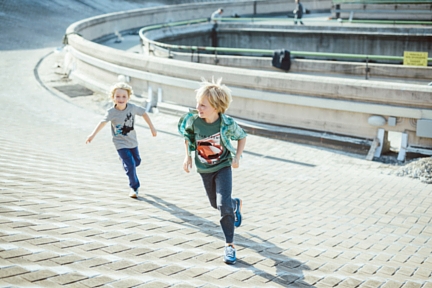 Lingotto
Address: Centro Congressi Lingotto, Via Nizza, 280, 10126 Turin, Italy
Website
Once the epicenter of FIAT automobiles in the 1920s, the FIAT Lingotto building is now an abandoned factory and test track—truly a sight to see. In its heyday, it was the largest car factory in the world, standing five stories high. 80 different models of cars were produced here, and today, the original test track sits on top of a shopping mall and hotel. My kids had such fun exploring the track, which happened to provide the perfect backdrop for our catalog shoot.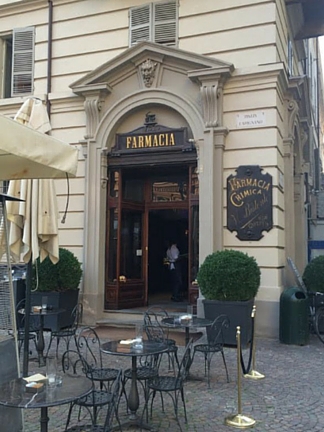 Farmacia Chimica
Address: Piazza Carignano, 2, 10123 Turin, Italy
Website
Located in a historical building that once housed the Pharmacy Bestente, Farmacia Chimica Bestente is a Michelin-rated restaurant offering a light lunch with a bistro menu, as well as late seating with more formal dinner options. We stopped in and were delighted to find a takeaway counter with an irresistible display of pastries. When in Turin, make sure to stop here and pick up lunch to enjoy at a table outside overlooking Carignano Square.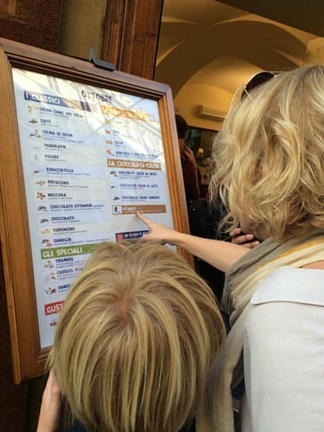 Gelateria Grom
Address: Via Accademia delle Scienze, 4, 10123 Turin, Italy
Website
Grom may be a chain, but that doesn't mean the gelato here isn't just as tasty as the rest. Grom features dozens of flavors that will satisfy everyone in your group. The kids went straight for lemon and I (on a mission to taste as many flavors as possible during our family adventure) decided on affogato. A win for everyone!
Learn more about Tea Collection, their kid-friendly travels in Italy and their Citizens FC collaboration with One World Play Project at teacollection.com.
Related articles
Let's play: One World Play Project goes to Italy
Teaching teamwork and social integration through soccer
Boys & Girls Club: a youth development program that gives back to the community