PART 1: Hope through soccer
Tembisa, South Africa, is a township north of Johannesburg that is home to more than 460,000 people. Within Tembisa, in the Winnie Mandela Park neighborhood, One World Play Project partner Play for Fun, Learn for Life runs soccer programming for local youth ages 5-14.
"Tembisa is a famous township," says Program Director Themba Chauke. "In Winnie Mandela Park, poverty's high. A lot of young children are taking care of their siblings because their parents have passed on. In most scenarios, if they have parents who are not working, they're drug addicts, alcohol addicts."
Play for Fun, Learn for Life, which started in 2007, seeks to help the youth in Winnie Mandela Park through play-based learning sessions that are focused on education, health and social skills. Little by little, Themba and his team are working to transform the future of their community.
Ready, set, go—a partnership is born
Play for Fun, Learn for Life is an affiliate partner of Play Soccer Nonprofit International (PSNI), another One World Play Project partner, which is how we connected with the organization. Play for Fun, Learn for Life and PSNI were among the first organizations to receive One World Futbols in 2010 when we were first getting our feet on the ground as a company.
Back then, Co-founder & Chief Innovation Officer Tim Jahnigen visited the organization in Tembisa and delivered a handful of One World Futbols.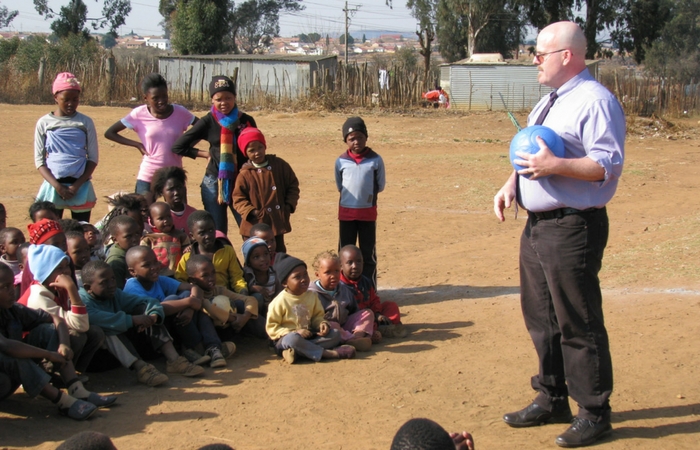 In 2014, during a visit to South Africa, Tim and Co-founder & Chief Impact Officer Lisa Tarver visited Themba and Play for Fun, Learn for Life in Tembisa.
Of that visit, Lisa says, "It was wonderful to see as we talked with kids in the program how many of them are not only benefiting from the program in their own lives but also, because of their participation in the program, they see helping others and giving back in their future. The power of play is not only changing their lives—it's making them want to be agents of change for the future."
Around that time, Play for Fun, Learn for Life also received 400 One World Futbols that are now utilized weekly in their own programs and have also been distributed among schools within the township that are in need of sports equipment.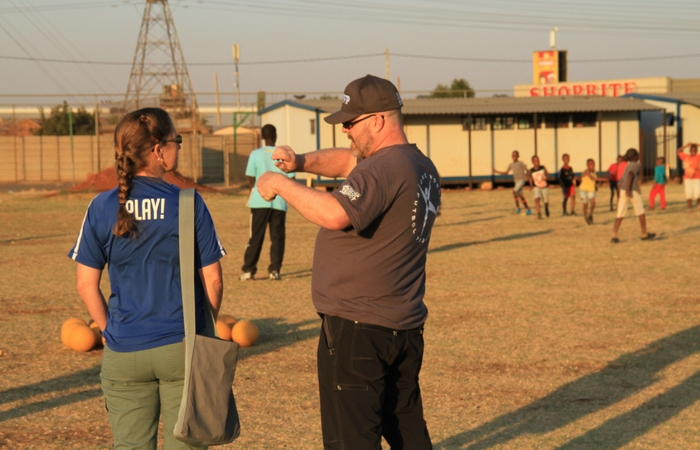 Making a difference through soccer
Play for Fun, Learn for Life, which registered more than 300 participants in 2017, is run by a group of seven committed volunteers, Themba included.
They run formal programs twice weekly—after school on Tuesdays and Thursdays—on the field behind Reagile Primary School in Winnie Mandela Park for two hours.
Themba says, "The kids will arrive, and we have a curriculum that we use. We start by registering them and then divide them into groups according to their age. The session will then start with health programs. The reason we start with that is the kids are still focused. Then we do a social session followed by soccer or sport of any kind."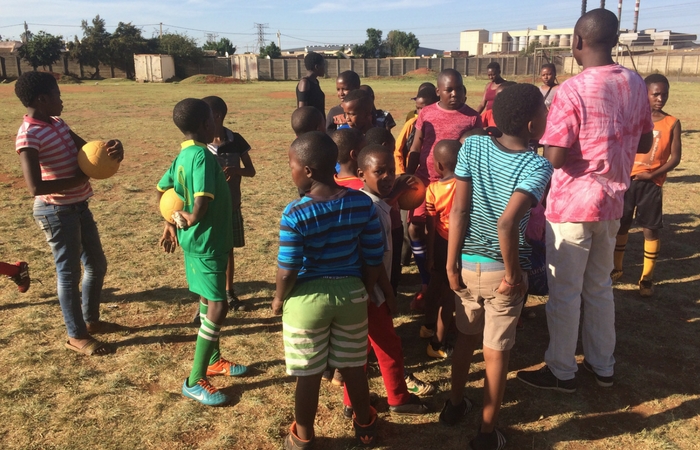 Roughly 90 percent of the program participants are in school. For various reasons, 10 percent are not in school, but Themba says they try their best to return to school. Themba, who has a good relationship with the principals in Winnie Mandela Park also does his best to help the kids stay in school—or get back in school, if need be.
Growing with Play for Fun, Learn for Life
Themba, 27, has grown with Play for Fun, Learn for Life and personally knows the life-changing—and live-saving—power of play. He heard about the organization through friends and started out as a participant when he was 16 years old. When he was 17, he became a volunteer coach. Throughout the last 10-11 years, Themba transitioned into his role as program director, overseeing all elements of Play for Fun, Learn for Life. In that time, he's seen the program grow from roughly 100 kids to more than 300.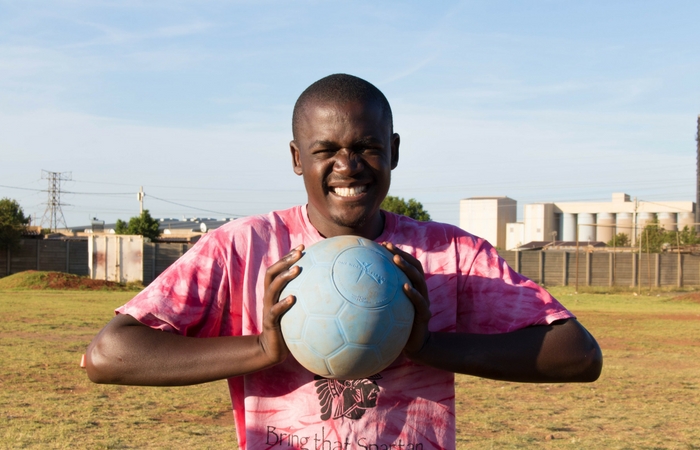 Of his volunteer role, Themba says, "I do it out of love. I do it for them not for me. That's what keeps me going. I don't want to let them down."
His leadership of the organization hasn't been without its challenges, and when a personal challenge came into play a few years into his involvement with Play for Fun, Learn for Life and he wanted to give up, the kids in the program reminded him of his purpose in life and the value he brings to others.
Check back tomorrow to see exactly how soccer saved Themba's life and to hear more about Play for Fun, Learn for Life.
Donate balls to organizations
For organizations like Play for Fun, Learn for Life, One World Futbols are an invaluable and often much-needed resource. You can donate these ultra-durable soccer balls to organizations like Play for Fun, Learn for Life today.