PART 2: Donating One World Futbols in Medellín, Colombia
As told by Emily Hopcian, marketing associate
While traveling to the 2014 World Cup and donating One World Futbols along the way, Jeremie Brillant and his friends turned to their social media networks for help with the donations. They told family and friends about their road trip, their route and that they were giving ultra-durable One World Futbols to organizations along the way. With knowledge of the group's mission in hand, family and friends made suggestions as to who might benefit most from the soccer balls.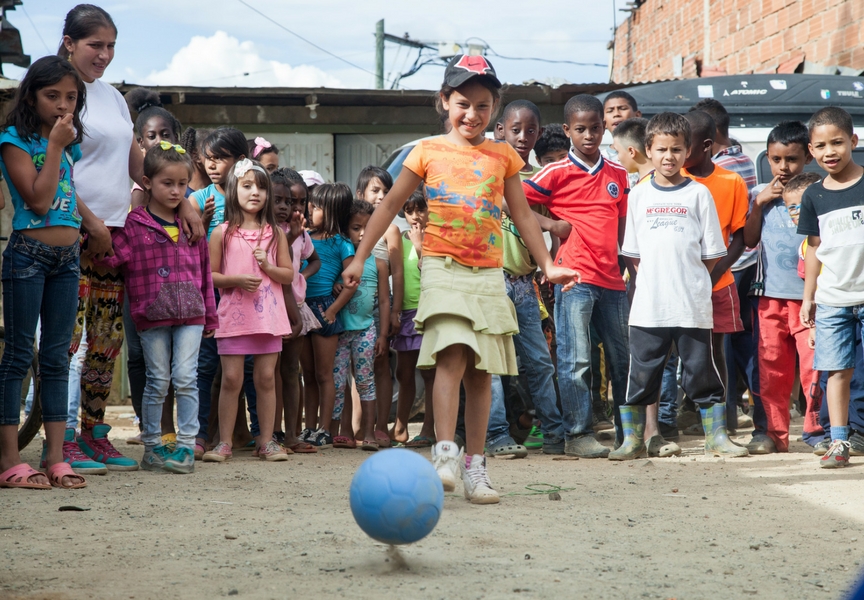 One was the Angeles de Medellín Foundation, an organization providing educational and play support to children and families living in one of the poorest neighborhoods in the Medellín. So while in town, Jeremie and his friends visited the foundation, donated 10 One World Futbols and spent an afternoon playing with the children.
The Angeles de Medellín Foundation was started by Mark Kaseman in March 2006. Since then, volunteers from 58 countries have visited, played with and supported the foundation. The foundation receives no government funding from anywhere, and everyone, including Mark, works out of love for the children and families.
"What we try to teach is also demographics and [geography] because up here, for them, the education level is very, very poor," Mark says. "It's important for them to know about the world."
"These kids are never going to see the world, so … we bring the world to them." — Mark
The Angeles de Medellín Foundation is a hands-on group where individuals are encouraged to lend their talents, suggestions and support in any way. The motto of the Angeles de Medellín Foundation says it all: "People to people with love."
The donation from Jeremie and his friends exemplifies that motto. In June 2014, they shared their love and passion for soccer with the youth at the foundation.
Jeremie says, "The big surprise for us wasn't so much about the One World Futbols as much as it was about the games. The balls are amazing in that they allow these kids, who play on rough surfaces, to enjoy the game longer, but the hype was always around our arrival and the fact that the kids would be playing against some adult foreigners!"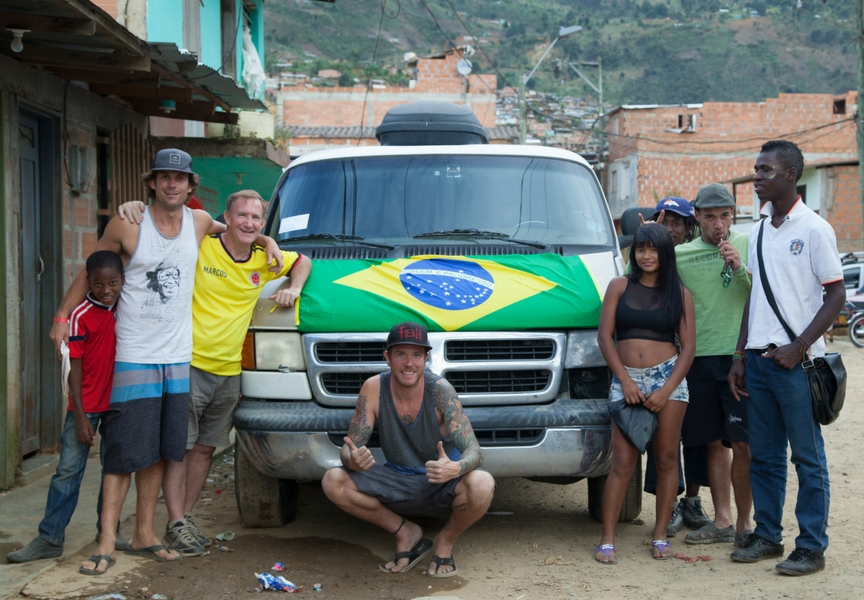 Jeremie continues, "It's so impressive to see how much joy can come from a simple ball and a simple game. It was a constant reminder to us how important play is in the lives of kids, especially those kids who don't have families or don't live in stable environments. To watch them just enjoy themselves, despite their setbacks, was heartwarming and worth the drive."
Check back next week to watch the video of Jeremie's entire Latin American road trip.