PART 2: The life-saving power of soccer
When 27-year-old Themba Chauke, program director at Play for Fun, Learn for Life, was 17 years old, his father died from cancer. His mother was ill at the time, and Themba, the oldest of his four siblings, says he collapsed under the pressure of caring for his family. In order to provide for his family, he had to quit school and find a way to make ends meet.
"Everything was too much for me," he says. "I felt I didn't have a chance in life because I had dreams to do a lot of things. I couldn't take it. I wanted to commit suicide."
Soccer saved Themba's life.
More specifically, the kids at Play for Fun, Learn for Life in Tembisa—a township of Johannesburg, South Africa—saved his life.
Themba says that, as he was planning to commit suicide, the kids from the program came to visit him at home and made him promise he wouldn't stop coaching them.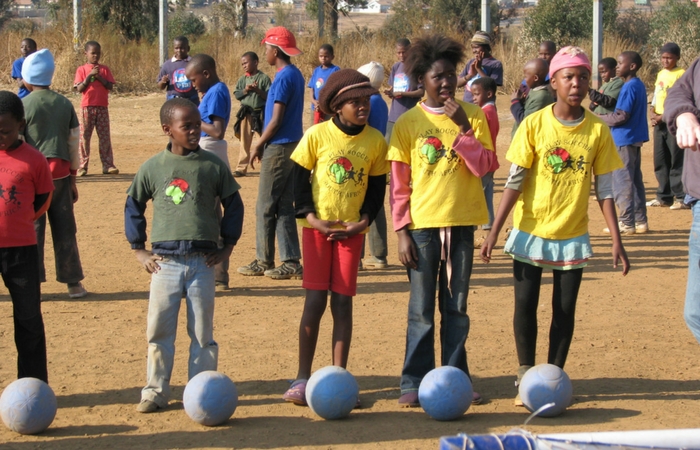 "That was a difficult moment to say, 'I promise you,'" he says, "because you can't lie to children. It challenged me to shift my mind and say, 'Let me try one more time.'"
Themba fully credits soccer with saving his life. Soccer has encouraged him to never give up, to not be involved in drugs and to always try and push harder.
Soccer is now a release for Themba. He says, "For me personally, I play soccer to release my stress. It's the only place where I don't think about anything—challenges and all that. It's a matter of me giving something to myself. It's kind of like rehab for me."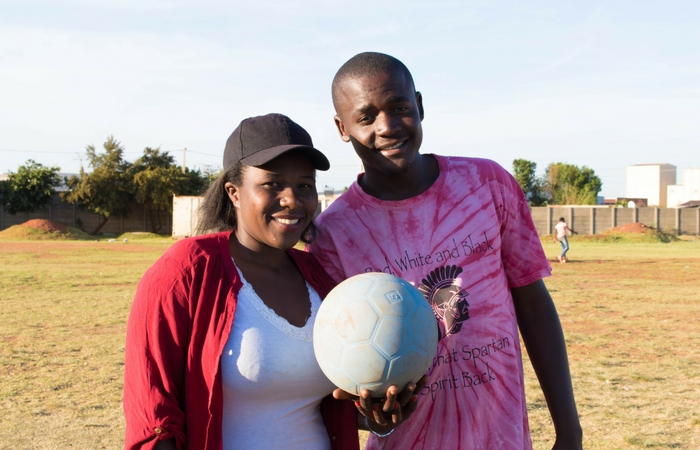 The power of play for the kids in Tembisa
For the kids in Tembisa, the kids that participate in Play for Fun, Learn for Life, Themba says, "Play is safety and fun. It's a place where they can play freely in a safe space—not a road."
While the organization only officially runs programming on Tuesdays and Thursdays, Themba says the kids use the field behind the school and the One World Futbols they received in 2014 every day of the week. For the most part, when not in use, the balls stay at Themba's house, so if the kids want to play, they'll come ask if they can check out a ball, in which case someone is assigned responsibility for taking care of and returning the ball—to ensure resources don't go missing.
Beyond the kids, the community recognizes the power of the program and the leadership of Themba and his team.
"It's good," Themba says. "They believe in what we do."
Still, living in a poor community, means that financial support from parents and others who know how important the program is tends to be minimal.
"Most of the parents, they have nothing," Themba says. "The only thing they can give is to say something like, 'Keep going. Never stop.' Others will give us support whenever they can."
Ultra-durable soccer balls: an invaluable resource
With minimal resources—financial and otherwise—the One World Futbols have greatly helped Play for Fun, Learn for Life continue to run its programs.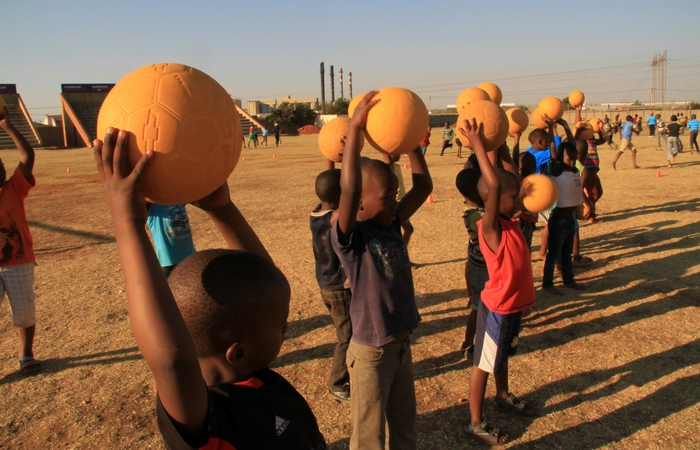 Before receiving the One World Futbols, Themba says they used traditional soccer balls from Adidas.
"They're nice soccer balls," he says, "but after two or three weeks, they're done. You'd have 40 Adidas soccer balls one month. Then, three months later, you don't have them."
In 2014, the organization received 400 One World Futbols. Some of those balls were distributed to local schools; the rest remain in the hands of Themba and Play for Fun, Learn for Life for their programs. Three years later, the ultra-durable soccer balls are still in play.
"The kids love them," Themba says. "The One World Futbol changed everything. I can give a ball to them, and they can play the entire week, bring the ball back and it's still fine."
Hopes, dreams and forward thinking
Of Play for Fun, Learn for Life, Themba says he's most proud that the kids are in control of their lives and their dreams.
"I'm proud that the kids have accomplished whatever they were dreaming," he says, "and for the youth instructors who've come, grown and become better people."
Themba's role in the lives of the local children cannot be overstated. Every year, the school has an assembly during which they present awards to the children. Last year, one of the Play for Fun, Learn for Life participants personally invited Themba to come and take a photo with her and her award.
"It's a moment that comes and stays for a long time in your heart," Themba says. "It was a very special feeling. I never felt proud like that. It makes me feel better that I have a purpose in life. I might not have things that I wish for, but if I can be important to someone's life, then it's okay with me."
In addition to his volunteer work with Play for Fun, Learn for Life, Themba started his own business within Tembisa that specializes in marketing and promotion for other businesses. He also has a few other side projects in construction and running a program that encourages youth to read.
With all that he does, Themba is working to make the community better.
"I want to succeed, so I can create more jobs," he says. "I've done research on the community and how we can make it a better place. We need to provide our children and youth with role models and the opportunity to play and to dream."
Tomorrow, as our capstone to this series with Play for Fun, Learn for Life, we chat with two program participants and the organization's managing director. Check back in for some silly, and serious, commentary on play.
Donate balls to organizations
For organizations like Play for Fun, Learn for Life, One World Futbols are an invaluable and often much-needed resource. You can donate these ultra-durable soccer balls to organizations like Play for Fun, Learn for Life today.

For more on Play for Fun, Learn for Life, visit globalgiving.org/projects/play-for-fun-learn-for-life.