PART 4: Rocky roads, street dogs and years of play: soccer balls made to survive
As told by Emily Hopcian, marketing associate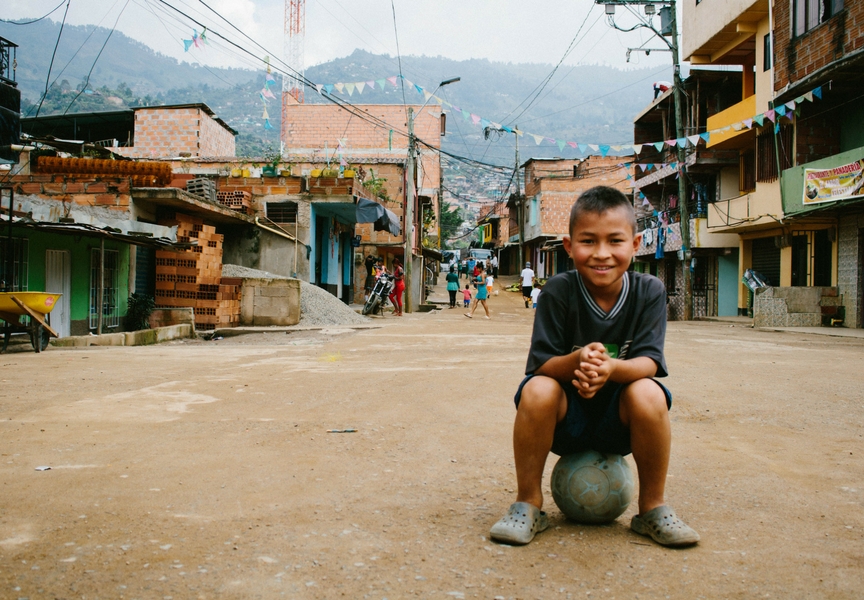 Three years after Jeremie Brillant and his friends passed through Medellín, I found myself in the city. Remembering the group's 2014 trek through Latin America and curious as to where they'd donated the One World Futbols in Medellín, I reached out to Jeremie.
With his help, I got in touch with Mark Kaseman at the Angeles de Medellín Foundation and set up a visit to see the foundation at work, meet the children and see and play with the One World Futbols.
Would the One World Futbols still be there?
While I've visited with One World Play Project partners before and seen the ball in action, this was unique. I had yet to see a One World Futbol that'd been in use in the field for three years. I was excited, and admittedly, I also wondered if the balls would still be there.
While the One World Futbol is designed to last on the harshest terrain in the world, its durability cannot protect it from theft; children taking it home; it getting kicked over fences or rolling down hillsides; etc.
Visiting the Angeles de Medellín Foundation
I arrived at the Angeles de Medellín Foundation on a Tuesday morning with my new friend Dorine, an entrepreneur and soccer fan from Holland who I was traveling with.
The neighborhood in which the Angeles de Medellín Foundation is located is home to many displaced Colombian families. Many have suffered as a result of the drug regime and Colombian civil war. Most have lost at least one family member. This neighborhood is far different from other parts of Medellín. Many families who live there never leave.
Dorine and I met Mark at the foundation, and he showed us the One World Futbols—they were there!
I couldn't hold back a smile. These durable little guys had lasted three whole years! They were dusty, muddy and had clearly been loved. There were a few small holes from normal wear and tear, but they looked great. Three years later. Incredible!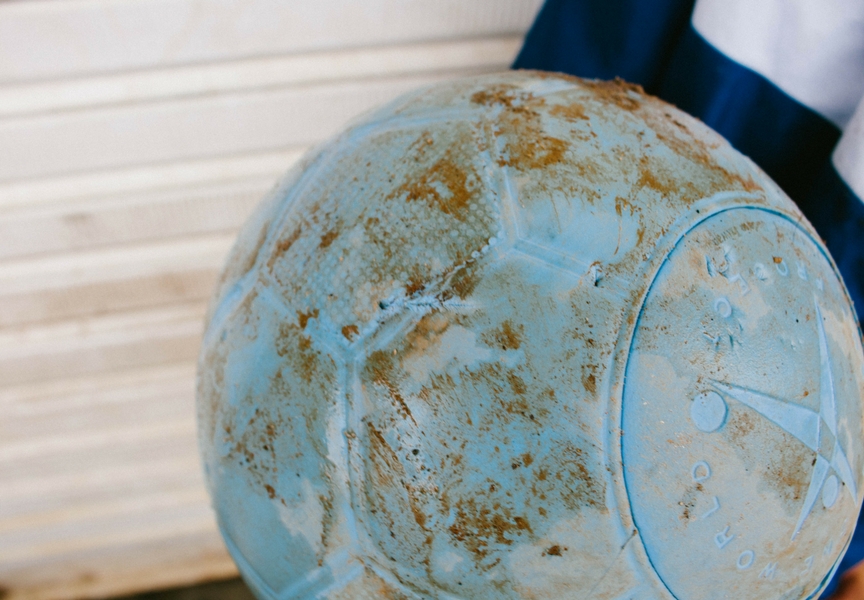 I could tell Mark has been taking good care of the One World Futbols. He explained he understood the importance of keeping a close eye on them so they remained a resource for the children.
Even still, of the 10 balls donated three years ago, only three remained. Mark told me that he could not be everywhere at once and often balls are taken by the children when he is not looking.
Mark also warned me and Dorine that the street dogs have taken a liking to the One World Futbols, something I hadn't yet heard in my more-than-three years with One World Play Project. So with a warning about the local dogs and two One World Futbols in hand, Dorine and I went outside to the street in front of the foundation to play a game of pick-up soccer with some of the kids.
One tough soccer ball
The dirt ground was uneven, rough and rocky. The street was lined with dog poop, horse poop and garbage. People were walking everywhere, and when the occasional car or donkey went by, they'd clear the street to let it pass. The kids from the Angeles de Medellín Foundation showed us the designated space to play; we set up two goals; and we played.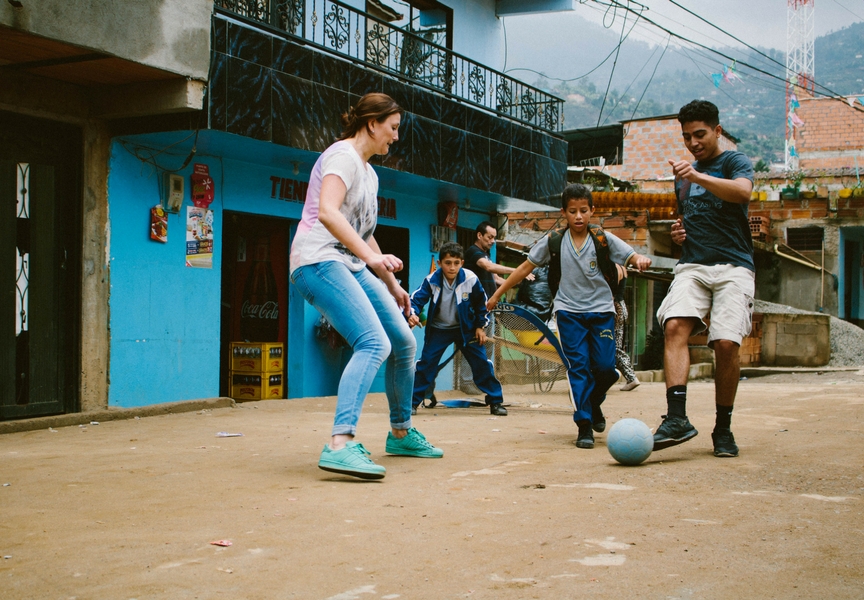 I've seen the One World Futbol tested many times in many ways, but it's always something special to see the ball "do its thing" out in the world. During our game, the ball rolled under a massive truck, was carried away by one of the street dogs—yes, even with Mark's warning this happened, but we got it back—and was kicked, rolled and stomped around on rough, rocky terrain.
To see our soccer ball in action, in places where it's needed most, is a great reminder why the ball exists.
In moments like that, I'm reminded that it's so important to continue finding ways to reach and support communities like the one surrounding the Angeles de Medellín Foundation.
Jeremie and his friends agree! Check back next week to see how you can be a part of their latest initiative leading up to the 2018 World Cup in Russia. If you thought a road trip to Brazil was a little crazy, wait until you hear what they're planning this time!