Celebrating refugee organizations on World Refugee Day
Soccer is the most popular and most played sport in the world. It has the power to bring people together across nationalities, languages, genders, beliefs and so much more. Soccer transcends time and borders. It allows us to find hope and joy in the most devastating situations and helps us form unlikely connections. It has the power to make the world feel bigger and smaller all at once.
We see this everyday in our work and in the stories we receive from our partners around the world. On World Refugee Day, we can't think of a better time to celebrate this truth and the work of refugee organizations in sport for peace and development in Europe, the United States and beyond. Read on to meet three of our partners working and playing with refugee and immigrant youth.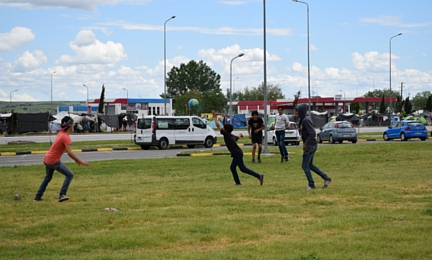 Operation Refugee Child
Since the borders closed in February 2016, there are approximately 17,000 refugee children stranded in refugee camps throughout Greece. Their lives are marked by boredom and deprivation. They live in camping tents in muddy fields, unable to go to school, without electricity, without any entertainment or source of recreation and insufficient drinking water and sanitation.
Our campaign partner Operation Refugee Child distributes emergency aid and backpacks filled with essential supplies to bring comfort, safety, health and warmth to refugee children and families in Greece. Starting this summer, they'll also be distributing ultra-durable One World Futbols raised through their campaign to the refugee children stranded in camps throughout Greece.
Soccer is the most popular sport in these children's home countries: Syria, Iraq and Afghanistan. The One World Futbols Operation Refugee Child distributes will provide a free, healthy source of entertainment and exercise to keep the children occupied despite the trying conditions. The balls will also help with conflict resolution and bring these youth from different backgrounds together.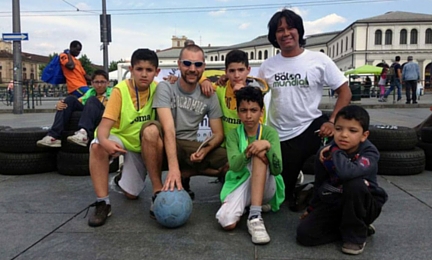 Muti Onlus
Muti Onlus, a refugee organization based in Italy, runs programs on sport for education, health, peace and development in Africa, Brazil and Italy. They also provide resources, such as shoes, jerseys and One World Futbols, to the youth in those programs.
Muti Onlus started in Africa in 2006. In 2014, after seeing the need in communities in their own backyard, they began working with immigrant and refugee youth in Florence, Milan and Turin. Their Italian programs help youth from Africa, South America and Asia integrate into their new Italian communities.
Muti Onlus believes soccer provides the feeling of understanding and unity through involvement. Soccer has the power to promote social integration without the prejudices of race, sex, religious faith, cultural or political preferences and to bring countries and people all over the world together. It has the power to teach teamwork and create friendships.
"One of the things about football is that it's a universal language," Co-founder Matteo Bottanelli says. "You don't need to know the language of the other kid you're playing with. Football unites everyone. Through football, kids can all have fun together. It doesn't matter what your religion is, what language you speak or what culture you're from—you're all having fun through football."
For more on the Muti Onlus story and their work with refugee and immigrant youth, check out our impact story on their programs: Teaching teamwork and social integration through soccer.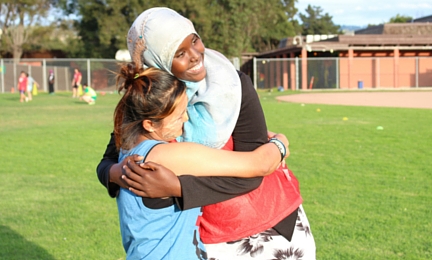 Soccer Without Borders
Our longtime giving partner Soccer Without Borders runs soccer for social change programs with immigrant and refugee youth in cities across the United States as well as with youth in Nicaragua and Uganda.
This refugee organization has been working with newcomer refugee and immigrant youth in Oakland, California, since 2007. Leveraging the universal appeal of soccer, Soccer Without Borders creates positive communities that play a vital role in participants' successful transition into their lives in the United States.
In Oakland, Soccer Without Borders youth are middle school and high school students from more than 25 different countries. Participants take part in soccer, off-field education, team-building, civic engagement and cultural exchange activities. Founder & Oakland Director Ben Gucciardi says that, when asked to describe their Soccer Without Borders teams, the most common response from youth participants is "a family." Soccer Without Borders is a space where refugee and immigrant youth learn to work together across language and cultural barriers, a space where youth are supported and encouraged to achieve their goals on and off the field.
In 2015, we shared the story of Soccer Without Borders player Fernanda as part of our All Girls Can Play initiative. See her story here. For more on Soccer Without Borders' programs and work, check out this blog post from Founder Ben Gucciardi: Using soccer to help refugees and immigrants transition and succeed.
Celebrating World Refugee Day & refugee organizations
We have some amazing partners working and playing with refugees in sport for peace and development, don't we? Join us in celebrating World Refugee Day, the work of these refugee organizations and the work of all those working to help and empower refugees around the world.
Buy and give ultra-durable One World Futbols to organizations like Operation Refugee Child, Muti Onlus and Soccer Without Borders today.

Related articles
Soccer Without Borders: building friendships
Teaching teamwork and social integration through soccer
Using soccer to help refugees & immigrants transition and succeed