Sparking social change through sports
by Emily Hopcian, storytelling & content manager
Grassroot Soccer was founded in Zimbabwe in 2002 after Tommy Clark, Kirk Friedrich, Ethan Zohn and Methembe Ndlovu saw firsthand the effect of the HIV/AIDS epidemic on their friends and community. At the time, local knowledge about HIV/AIDS was minimal, so the foursome devised a plan to educate local communities on HIV/AIDS and overall health. Tommy, Kirk, Ethan and Methembe resolved to use soccer—the world's game—as a way to not only attract local youth but to also teach those youth about HIV/AIDS and general health education.
Today, Grassroot Soccer (GRS) has grown to include programs in more than 50 countries worldwide that serve more than 2 million youth. The organization, a partner of One World Play Project, approaches their work through various models. One of those models, their flagship model, focuses on local impact and is rooted in three countries: South Africa, Zambia and Zimbabwe. All three GRS flagships are locally-registered organizations operating in their respective countries. These flagships deliver impact directly to communities where GRS has been involved for more than a decade.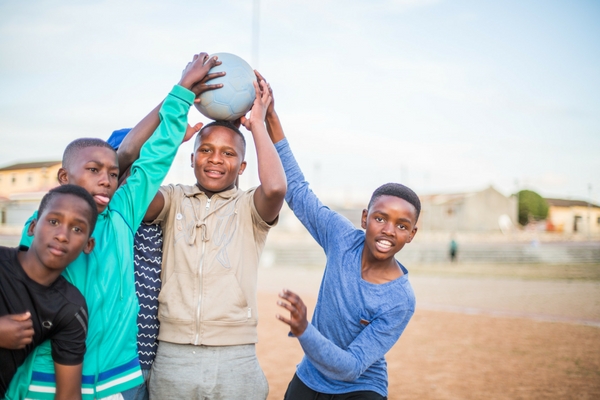 Seeing firsthand the impact of Grassroot Soccer South Africa
GRS South Africa first started running programs in 2006. South Africa has three flagship sites: Alexandra, Soweto and Khayelitsha. Each site has its own full-time local staff and coaches, and two of the sites—Alexandra and Khayelitsha—are run out of Football for Hope Centres, which were built by FIFA and streetfootballworld in advance of the 2010 World Cup hosted by South Africa.
I recently visited Grassroot Soccer at the Football for Hope Centre in Khayelitsha, a township near Cape Town that is roughly 15 square miles in size and home to more than 350,000 people. Upon arriving at the center, I was immediately struck by the impressive size of the center and surrounding play space—it's larger than most spaces I've seen while visiting One World Play Project partners—as well as the enclosed turf field. The Football for Hope Centre is a special space that is simple, beautiful and functional.
Beyond the space itself, one of the first things I noticed as I stepped out of the car and took in the scene around me was a group of kids who'd gathered on the field and the spaces surrounding it. Grassroot Soccer's afternoon programming hadn't officially started, yet these kids were there playing—smiling, laughing, running around, doing what kids do. I like knowing that this space is accessible to the community at anytime on any day and that the kids in Khayelitsha are using it in the way it's supposed to be used: for play.
Turning an area of crime into a space for play
In the GRS office at the center, which also includes a classroom and two locker rooms, I met Chris Mfiki, a project coordinator for GRS. Chris is a warm, welcoming individual and his love for GRS, the kids and the work he's doing is evident and contagious.
Chris, who started working with GRS in 2010, says, "It has always been a passion to work with youth, to uplift youth around our communities. I like working for Grassroot Soccer because I really want to fight the spread of HIV, give kids the knowledge and the awareness to uplift themselves."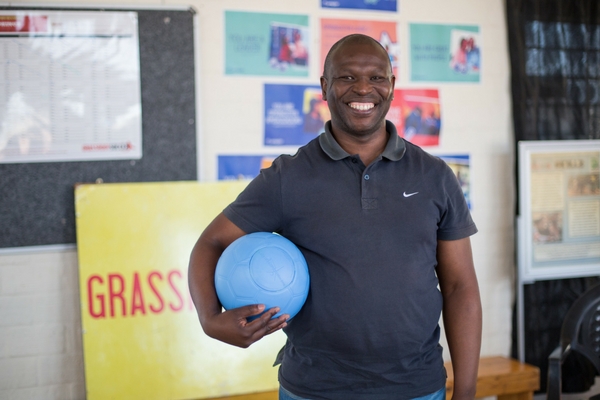 As Chris and I walked back outside to the field, I asked him about Khayelitsha and how the Football for Hope Centre came to be.
"Khayelitsha is a huge community," Chris says, "and where the center is, it was sort of a notorious area where—in the mornings as people were going to the station or going to work—they would get mugged. Coming from work, they will probably get mugged."
So in an effort to turn that area into a place of positive activity, the City of Cape Town and GRS identified it as a good space for the Football for Hope Centre. Of the 20 centers built around Africa leading up to the 2010 World Cup, the one in Khayelitsha was the first to open in December 2009.
Teaching HIV/AIDS & general health education through play
With the Football for Hope Centre as a base, GRS works in partnership with the schools in Khayelitsha to educate youth about HIV/AIDS and general health.
Chris explains, "It's a during-school program where we utilize the life orientation periods to give awareness about HIV and AIDS. And now, we are focusing on a broader, wider spectrum of things because we are now in a total health program—not only focusing on HIV and AIDS but also issues affecting young girls and boys, like gender-based violence, teenage pregnancy, substance abuse."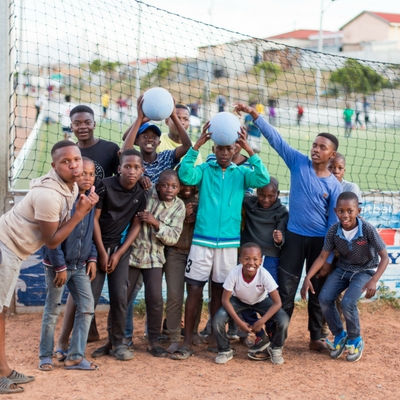 GRS South Africa is starting to see an impact.
"Khayelitsha is a township that, as a previously-disadvantaged community, had a high number of HIV and AIDS prevalent," Chris says. "But now, seemingly that we've been doing the work for the past five to seven years, it has gone down a bit … Interacting with the kids and inviting the parents to our events, you could start to see the change in what we've been preaching."
The power of play & an ultra-durable ball
Play, particularly soccer, is a motivator for the kids in Khayelitsha.
"To me, play is—it simply means having some sort of sport," Chris says. "In a community like Khayelitsha, it really helps to bring the kids together. It really helps the kids to be disciplined. It really helps the kids to be aware. It really helps kids to be aware of their health."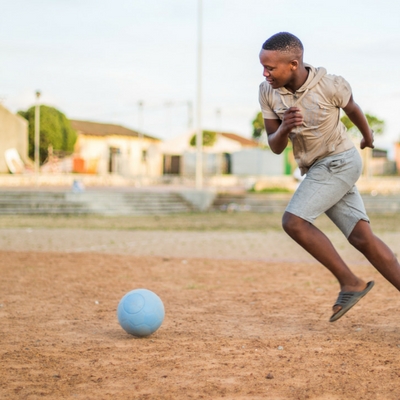 And in a place like the Football for Hope Centre in Khayelitsha where the play never stops, the ultra-durable One World Futbol is a valuable tool.
"It's quite a good resource to have," Chris says. "Because why? Because normal balls they can get worn out. [The One World Futbol] is a football [soccer ball] that we definitely need and that will last longer than the other balls. So I think it's so fortunate for us to have those balls because kids could just do anything with it and the ball won't be worn out … It's so great to have balls like that that are indestructible balls."
Donate balls to organizations like Grassroot Soccer today
For organizations like Grassroot Soccer, One World Futbols are an invaluable and often much-needed resource. You can donate these ultra-durable soccer balls to organizations like GRS today.

The story continues …
Check back tomorrow to see and hear more from five of the kids who participate in Grassroot Soccer's Khayelitsha program.