Teacher Appreciation Day: inspiring kids to give soccer balls
On Teacher Appreciation Day, we celebrate teachers like Sarah Roberts who are inspiring kids worldwide. In her own words, see how Sarah's travel stories inspired her class to give back.
I'm a second grade teacher in Franklin, Tennessee, and also work as an educational coordinator for a nonprofit called Retouch. Last year, after returning from a Retouch trip to Kenya and heading back into the classroom, I saw my two worlds collide in the best, most beautiful way as I shared my travel experience with my students.
Upon our return to school after the holiday break, I told my students about my time in Kenya as we drank Kenyan chai tea. I told them that while I was in Kenya the organized men's soccer team in the Kenyan bush made a request before the village to get soccer uniforms for their team. Without uniforms, they aren't allowed to play in the league, and without a league to play in, trouble can ensue as they look to find ways to fill time. I showed my class a picture of the soccer team and the makeshift soccer balls they played with, some created by tying t-shirts together.
The next day at school, I received this: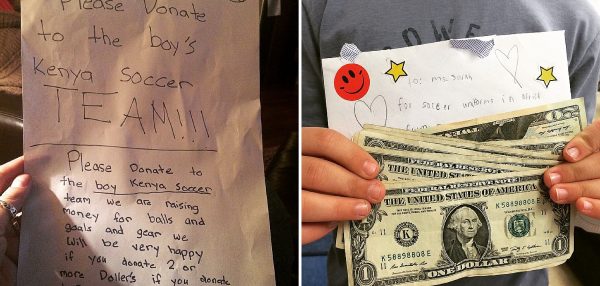 One of the boys in my class, Jack, gave his Christmas money to buy jerseys for the Kenyan men's soccer team. Jack's gesture sparked conversations among my students about what they could do to get involved and help. They began donating books, setting up lemonade stands and giving their allowance and First Communion money to help buy jerseys and One World Futbols for the soccer team. The family I live with got involved, too, calling on the local soccer community to donate jerseys, shoes and gear.
A few months later, after a massive community effort, 10 One World Futbols and matching team jerseys rested atop our donation pile, ready to be played with and donned by some eager Kenyan footballers.
We sent the balls and jerseys to Kenya, where they were immediately put to use and have been in action ever since. The men's soccer team is now able to compete in the league with their new jerseys, and the kids at the local school now have sturdy, ultra-durable soccer balls to play with.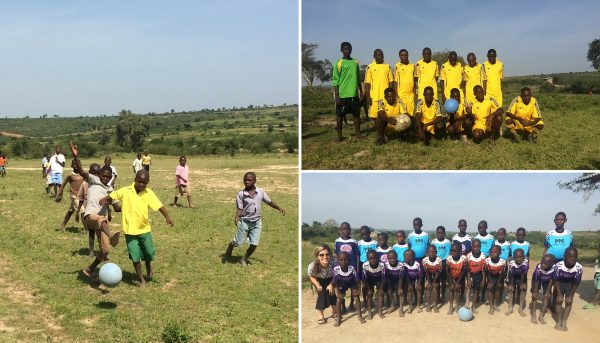 It's amazing to me how so many small miracles can create huge miracles, how one experience and one story can create a ripple effect and a simple but major impact.
Related articles
Using play to promote education in Zimbabwe
Enriching education through play in Ethiopia
Unpoppable ball to meet your playground equipment & mission trip needs