Team Talk: memorable moments from soccer, sports & play
With the 2015 FIFA Women's World Cup upon us, our team remembers some of our favorite World Cup, sports and play moments. Some broke our hearts. Some inspired us. Some made us sit on the edge of our seats. Some made us smile, laugh and dance. And yes, some made us cry. But hey, that's play, right? All the emotion that comes with beautiful, memorable moments of play.
U.S. Women's National Team wins the 1999 World Cup
I was only seven years old, but I remember when Brandi Chastain scored the final penalty kick securing the team's win over China. It was a big deal because Brandi took off her shirt—something typically only done by men after a win. As a young soccer player myself, I looked up to her. I hoped that someday I would be as great of a soccer player. — Taylor, marketing & sales assistant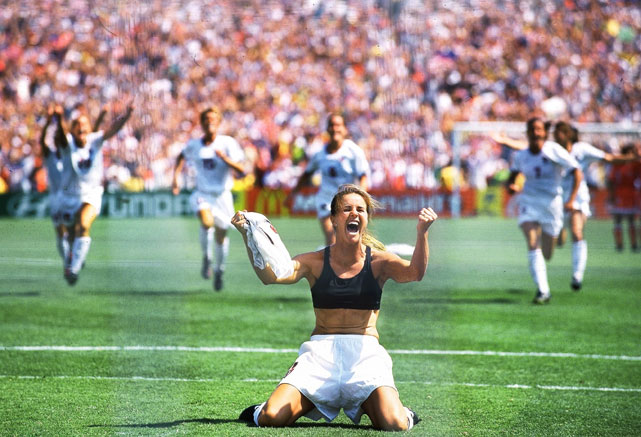 Paul Gascoigne at the 1990 World Cup
My favourite World Cup memory is Italia '90 and Paul Gascoigne from England having the tournament of a lifetime. Paul dazzled and dreamed, and the whole country felt it when he was booked in the semifinal and couldn't play in the final. The young genius was England's answer to everything, and his tears moved the entire nation. After the World Cup, he continued to be the best player on the pitch and seemed to play at a higher level than any individual I have ever seen. The fact that he was English was even more special. The Italia '90 World Cup was set to "Nessun Dorma," and this great man deserved the iconic song all to himself. — Danny, cricket programme coordinator

France v. Italy at the 2006 World Cup
Zidane head butts an Italian player. See the video below for his response to the player saying something negative about his mother and twisting his nipple. It is amazing how protective people are of their mother's honor! — Ingrid, ball donation program manager

Championship volleyball team with a cherry on top!
My favorite sports moment was when I was in 8th grade. Our coach promised to take us all to Fentons Creamery in Oakland if we won our volleyball championships. I scream, you scream, our team won and off we went—in the days of no seat belts required, crammed in a Ford Country Squire station wagon. And each one of us ordered a Banana Special, a Fentons tradition. HUGE scoops of vanilla, chocolate and strawberry ice cream; cradled by a whole ripe banana; bathed in pineapple, strawberry and chocolate fudge; topped off with almonds, whipped cream and a cherry. I am still full but mostly it's with wonderful memories! — Dana, VP of strategic partnerships
Zinedine Zidane in Brazil v. France at the 1998 World Cup
My favorite World Cup moment was when Zinedine Zidane scored the second goal in the 1998 World Cup Final at the 45th minute. France went on to win the World Cup 3-0 against Brazil—in France. I was at the match in Paris and was hosting adidas America VIPs as part of my job as the World Cup Event Manager. It was just incredible to see the win and experience the jubilation of the entire nation. The Champs de Elysees was mobbed with hundreds of thousands of fans celebrating after the match, and we experienced the madness firsthand. — Rachel, Asia co-director

United States v. England at the 2010 World Cup
While not a memorable match for most, it's one I'll always remember. I was studying abroad in England at the time, and our group was on a weekend trip to Cornwall. We were staying in Coverack, a tiny fishing village on the coast. Imagine the surprise of the locals when 30 American students piled into the only pub in town for the match! The rivalry was friendly, and the game, not terribly exciting, ended in a draw at 1-1. It was fun to experience the World Cup in a tiny town in a country that loves football! — Emily, marketing coordinator
1982 World Cup
From 0:50 to 1:50: this was the first time I understood that peace and soccer go together like peas and carrots. — Salvador, director for Latin America and the Caribbean
Derek Fisher's game-winning shot
My favorite all-time sports moment is from a Los Angeles Lakers basketball game. Derek Fisher scored a game-winning shot with 0.4 seconds left on the shot clock, and it was just amazing. It reminded me that play and sports can change your view of what you think is possible!! — Mayura, director of giving

Nigeria v. Sweden at the 2015 World Cup
As it turns out, I just witnessed mine. The first goal Nigeria scored was followed by the best victory dance I've ever seen. — Cameron, donation coordinator
Roberto Baggio in Italy v. Brazil at the 1994 World Cup
Roberto Baggio, with his long skunk-tail mullet hanging out, was having a fantastic World Cup until the last game. Scoring five goals in the tournament didn't help him at all in the penalty shootout. With the game goalless throughout, the World Cup Final would be decided by penalties for the first time. Baggio's shot would have tied the penalty score, but the ball went well above the crossbar. Brazil won the shootout 3-2. Throughout the tourney, Baggio was being loud and obnoxious and diving all over the place. Prior to the game, he told the American interviewer that it was "God's will" that Italy should win today, proclaiming it was "already in stone." — Stephen, Asia co-director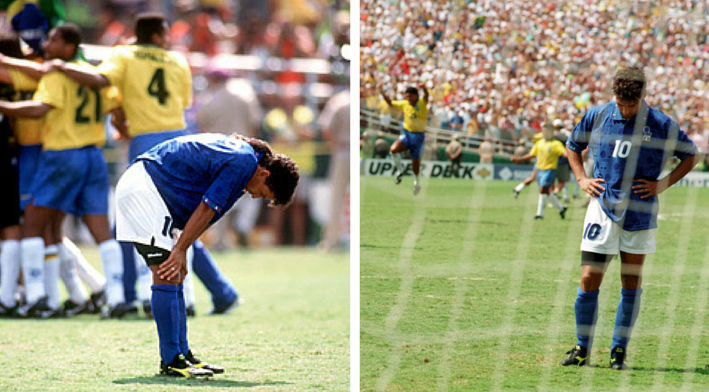 1996 African Cup of Nations
Most powerful moment, easily: South Africa 1996. The new "Rainbow Nation" was hosting the African Cup of Nations. I was at the final, in which Bafana Bafana shockingly beat Tunisia 2-0. The Rainbow Nation went bananas. The stadium, which held around 100,000 people, probably had 130,000 in it—black, white, "coloured." Everyone was hugging each other and screaming and crying. Mandela was on the awards stand. Leading up to the game, the South African Air Force did a flyover over the stadium; the roar of those jets as they suddenly came into view and passed over, seemingly within inches of the top of the stadium—a remarkable moment in history. — Sandra, director for Africa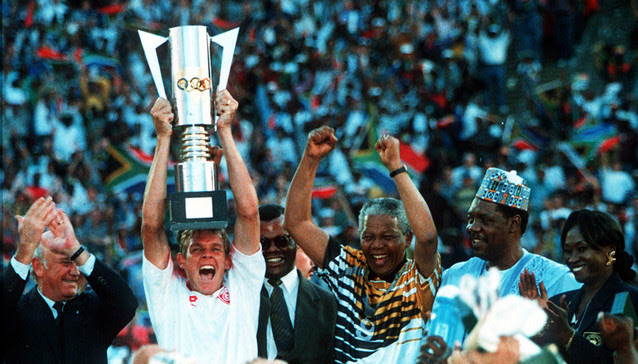 Brandi Chastain's celebration at the 1999 World Cup
My favorite World Cup moment is Brandi Chastain's celebration after winning the 1999 World Cup. The second is watching my first World Cup in 1978 as an exchange student in Germany. I was amazed at how the streets in my small town were empty whenever Germany played a match. — Arnold, chief operating officer
France v. Mexico at the 2010 World Cup
My favorite World Cup moment was in 2010 when Mexico beat France 2-0. I was in Mexico at the time, and it was my first time watching the World Cup. During the game, I could hear the entire city cheering, and it was very easy to get caught up in the energy and the passion of the crowd. — Charlotte, global supply chain analyst
2010 World Cup
My favorite moments from the World Cup are not from the field of play but from the spectators in the stadium. I was fortunate enough to work at the World Cup in South Africa in 2010 and was based in Port Elizabeth on the southern coast of the country. Teams from South Korea, Greece, Ivory Coast, Germany, England, Switzerland, Chile, etc. came to play, and the fans went CRAZY! Costumes, noise-makers (including the notorious vuvuzelas), musical instruments and lots of singing and dancing. All the fans let their passion for and love of the game shine through and celebrated together, regardless of which team won. — Rebecca, director of corporate partnerships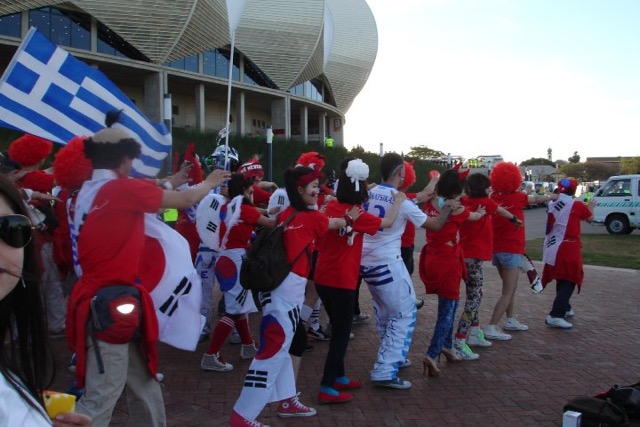 Waka Waka, World Cup!
My favorite World Cup memory actually involves a different kind of player—Shakira. Playing on the world's heartstrings with 2010's anthem "Waka Waka (This Time for Africa)." This song captured the essence of the World Cup for me. Bringing everyone together with a joyous, positive spirit. Can't help but dance and smile whenever I hear it. Tsamina mina, eh eh! Waka waka, eh eh! — Andrew, public relations associate

What's your all-time favorite World Cup, sports or play moment? Share with us on Instagram and Twitter with #AllGirlsCanPlay.