Tony La Russa's Animal Rescue Foundation: helping shelter dogs become therapy dogs for veterans
When the wars stop and soldiers come home, for many, the true battle has just begun. Research suggests 10 to 18% of veteran soldiers from Afghanistan and Iraq are likely to have post-traumatic stress disorder (PTSD) when returning from war. While at heightened risk for depression and addiction, they're also re-learning how to connect with their families, friends and communities and readjusting to their roles within those circles.
"Even my wife, she didn't understand what I was going through," explains four-year Air Force veteran William. "I didn't talk about it, you know; there was a lot of things I wanted to forget."
William sustained traumatic brain injury after a mortar attack. Since returning home, he's dealt with anxiety, nightmares and PTSD. Needless to say, adjusting to civilian life after war is not easy. Thankfully, veterans don't have to navigate the challenges of returning home alone. They're getting help from man's best friend.
Pets for Vets: matching shelter dogs with veterans
Our partner Tony La Russa's Animal Rescue Foundation (ARF) in Walnut Creek, California, runs a program called Pets for Vets. They support veterans upon return by matching animals that have run out of time at local shelters with veterans looking for help transitioning from soldier to civilian.
"A natural enhancement to our core mission is making animals part of a person's life," ARF Executive Director Elena Bicker says. "That is 'People Rescuing Animals…Animals Rescuing People.' It's wonderful that we've been able to include our veterans, those that have served our country so tirelessly and all in with their heart and their efforts."
The Pets for Vets program at ARF carefully matches selected shelter dogs with veterans in need of therapeutic healing, saving both animal and human lives. Since the program's inception in 2012, ARF has now placed 147 dogs with veterans.
"The impact that our dogs have on our veterans is amazing," Elena says. "It is very heart-enriching for both the dog and the veteran. What the veteran gets out of it is unconditional love, a schedule that gets them out of bed in order to meet the needs of the dog and also just an unconditional softness and sometimes even a distraction."
Dogs have been proven to help veterans reduce anxiety, depression and symptoms of PTSD; establish routines and self-care practices; relieve feelings of isolation; and renew their sense of purpose and focus on achieving goals.
Veteran William received his dog Nani through ARF's Pets for Vets program, and from day one, he and Nani had an instant connection.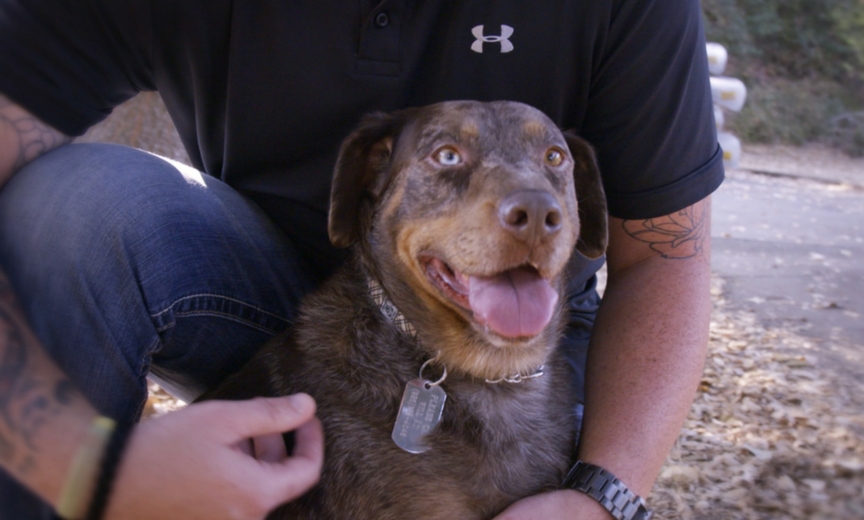 "The transition from not having her to having her was an amazing transformation for me and her," William says. "Her and I are in tune. It's amazing to feel that way, too, with my pet … Every day, just that bond gets stronger. I'm very, very blessed to have her in my life."
Nani is more than a great pal for William. Since adopting Nani, William's nightmares have started to subside.
He says, "When I have nightmares, she'll actually jump up on the bed and start nosing my face … I'm not having as many nightmares."
William and Nani are one example of many. Pets for Vets has a record of providing powerful therapeutic and practical benefits for veterans through the quiet, unconditional love of a pet.
What makes ARF's Pets for Vets program unique?
There are many organizations in the United States that pair dogs with veterans in need of therapeutic healing, but very few of them actually give the dogs a second chance at life. ARF's ability to do just that is what sets them apart.
"We're not breeding our animals," Elena says. "We're pulling our dogs from county facilities. In California, you only have a very short period of time before they euthanize [animals] for space, and ARF goes out and pulls these dogs."
To properly rescue and then place a shelter dog, ARF assesses the dog's behavior; then brings them into their headquarters in Walnut Creek, California; medically evaluates them; and microchips them. ARF supports each dog and veteran throughout the process with additional training, veterinary care and by providing resources to ensure a beautiful, lasting relationship between dog and veteran.
"Every time a veteran walks out of the Animal Rescue Foundation with a dog, I feel like a little bit more magic in the world exists," Elena says.
The power of play in the relationship between veteran and dog
Play often serves as an icebreaker between veteran and dog. It helps the two get to know one another and builds the bond that will carry them through both of the good and the bad.
"It builds the bond of the relationship," Elena says. "Because who doesn't want to have a good time? Who doesn't want to have fun? That's what dogs are about. Interactive play is about the joy they bring into our lives, into our world."
Supporting Tony La Russa's Animal Rescue Foundation
Since the nonprofit organization was founded more than 25 years ago, ARF has placed more than 34,000 dogs and cats in homes. Elena credits much of the organization's success to the support of volunteers and donors.
She says, "The more support we have, the more resources that are identified, the more help and time that people can provide ARF allows us to give back that much more into the community—to the disadvantaged, to the elderly and specifically to our veterans."
ARF is an accredited four-star charity that receives no government funding, so the organization strictly relies on the goodness of people, community partners and their donations.
"What's critical to ARF's Pets for Vets program is certainly our funding and our resources available. The more we have, the more good we can do," Elena says.
ARF is careful, thoughtful and transparent in terms of how they use donations. For every dollar raised, the nonprofit puts 87 cents directly toward life-saving and life-enriching programs.
"We're very frugal with the dollar," Elena says. "We stretch it a long, long way, and that's because we have more than 500 volunteers that provide support and care for our pets and our programs."
The organization, located in One World Play Project's San Francisco Bay Area backyard, is always looking for people to make a difference. Elena says their phones ring more than 200 times a day with requests for help. Through generous donations from people and community partners, ARF is able to say "yes" to many more people—keeping pets in homes, matching dogs with veterans and running robust programs for youth.
Purchase with a purpose
One World Play Project is proud to support organizations like ARF and their Pets for Vets program.
Through our new line of durable dog toys, One World Play Project, Worldwise and our customers are playing a role in supporting Tony La Russa's Animal Rescue Foundation.
For every durable dog toy you buy, One World Play Project and Worldwise will donate a portion of proceeds to ARF, as well as other animal charities.

Related articles
Inspiring animal stories: how Jack met Tommy, his mobility service dog
Canines of One World Play Project