Using soccer to help refugees in Europe
Soccer is the world's language. No matter our background or where we live, soccer breaks down barriers, brings people together and builds friendships. It creates understanding and provides a feeling of unity through involvement. It teaches teamwork and has the power to promote social inclusion. Many organizations use soccer and other sports for peace and community building among children and adults of similar and diverse backgrounds. Soccer and sports in general have a way of making us feel as though we're all part of the same team.
One World Play Project and nonprofit organization Muti Onlus both believe in the power of soccer and sports for peace and social inclusion.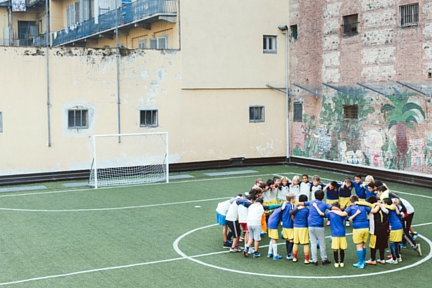 Muti Onlus, a longtime campaign partner of One World Play Project, has programs in Italy, Africa and Brazil that aim to provide protection, safety and fundamental rights to children—as well as medical care, education and fun. The organization has a focus on sport and play, especially soccer. They believe that, through play, children gain life skills and values, such as respect, teamwork and good sportsmanship.
While visiting Muti Onlus in Turin, Italy, we learned more about the history and work of Muti Onlus, saw its Italian programs that focus on helping refugees in Europe in action and witnessed the connective power of soccer.
Muti Onlus: two friends, a simple idea, a lot of passion
In 2002, officials began work to bring the 2010 FIFA World Cup to South Africa. During this time, Matteo Bottanelli and his South African friend Robin Goode noticed many ads highlighted how the global event would create a positive social impact for the citizens of South Africa, especially those living in poverty.
They knew South Africans have a deep passion for soccer and that many of those fans would be unable to attend matches held in their own nation. Beyond that, they also understood most South African soccer fans didn't even have soccer balls or shoes; they often played barefoot with ragballs built from whatever materials they could find.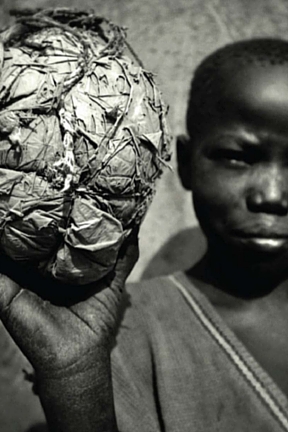 After seeing numerous commercials and thinking through the reality of the situation, Matteo and Robin, who was living in Italy at the time, had an idea. They would collect soccer balls, shoes and jerseys to give to children living in Khayelitsha, a township near Cape Town. With a lot of enthusiasm and a rough plan in place, Matteo and Robin began collecting equipment.
Matteo had no clue where they'd find donations. He says, "Being a practical person with solid principles, I don't promise anything I'm not 100% sure I can fulfill. This one time, in the case of Muti Onlus, I made an exception. I founded the organization out of enthusiasm despite not knowing where we'd find the necessary materials."
Matteo is a sports photographer, and he used that network as a jumping off point. He shared the concept and mission with anyone who could help: the district soccer team, the Italian Referees Association (AIA), the Italian Soccer Federation (FIGC) and arguably the two most important soccer teams in Turin: Torino FC and Juventus FC.
The support Matteo and Robin received from their families, friends and networks exceeded their expectations. Realizing they were on to something, in 2006, Muti Onlus was officially born.
Using teamwork, inspiring joy
Momentum grew. Muti Onlus received support from their local community, the professional soccer community and major corporations.
Matteo says, "Initially, we planned to personally bring all the equipment to Cape Town, but we were forced to change plans because we collected so much more than anticipated."
In addition to Cape Town, Matteo and Robin identified beneficiaries in 10 other African cities. Because they'd promised supporters they would personally oversee the distribution, the duo shipped the donations to beneficiaries with instructions to not open the boxes until they'd arrived.
In October 2007, Matteo and Robin embarked on Muti Onlus' first African trek, riding two motorbikes through Africa to deliver the donations.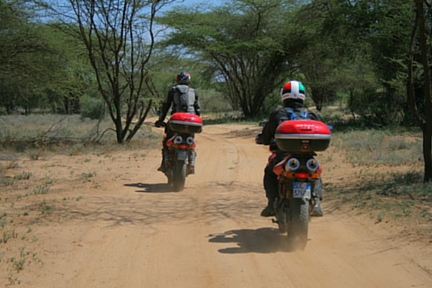 "The enthusiasm and joy of the children was so contagious that my heart filled with happiness. That was an amazing experience," Matteo says. "I remember lying in the tent [our first night in Tanzania] thinking the only feeling I could compare that happiness and gratification to was the feeling of falling in love. I was so happy I cried."
Trekking on in Africa, Brazil and Italy
The trek in 2007 was just the beginning. Muti Onlus, which is entirely run by volunteers, has traveled through Africa three times by vehicle and a few times by plane. To date, they have programs in 10 African countries. In 2014, the organization expanded its reach to Brazil as well as to cities a little closer to home for Matteo: Florence, Milan and Turin.
From the first distribution in Africa to the treks that followed, Matteo says he's constantly moved by the joy of the children. In his eyes, the donations have been small—a ball, a jersey and a pair of shoes for each child. But for the children, those items are everything; the donations mean the world to them.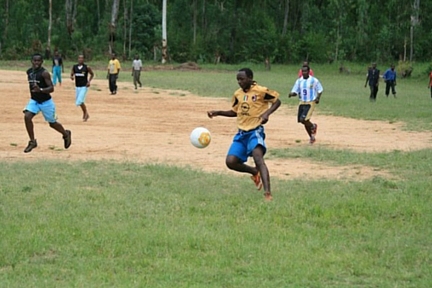 While the heart and structure of Muti Onlus is the same across continents, the programs are quite different between Africa, Brazil and Italy.
Using soccer to help refugees in Europe
In recent years, the Italian programs in Florence, Milan and Turin have been focused on helping Italian youth in disadvantaged communities. The programs also provide assistance to immigrants and refugees from Africa, South America and Asia integrating into their new Italian communities.
Muti Onlus believes soccer provides the feeling of understanding and unity through involvement. Soccer has the power to promote social inclusion without the prejudices of race, sex, religious faith, cultural or political preferences and to bring countries and people all over the world together. It has the power to teach teamwork and create friendships.
"One of the things about football is that it's a universal language," Matteo says. "You don't need to know the language of the other kid you're playing with. Football unites everyone. Through football, kids can all have fun together. It doesn't matter what your religion is, what language you speak or what culture you're from—you're all having fun through football."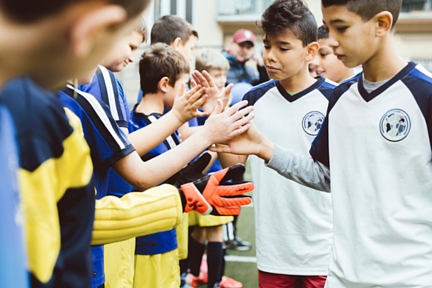 The programs and tournaments organized by Matteo and his team of volunteers not only give the children a chance to play but also a chance to get to know the other kids, many of whom come from very different backgrounds.
"That's really important," Matteo says, "because during our programs, most of the time, they become really good friends. That's a great possibility that we give them."
Playing a role in the Muti Onlus dream
Fast forward to a crisp Saturday morning in Turin in October 2015. One World Play Project gathered alongside Matteo, the Muti Onlus team and program participants from Italy, Venezuela, Morocco and Egypt—to name a few—and their families for a donation event and tournament.
As we spoke with Matteo about the donated balls and jerseys, he explained that new equipment changes the demeanor of the kids. When kids put on a jersey and pick up a ball, they feel like the soccer stars they watch on TV.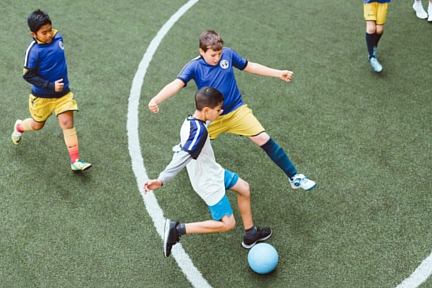 Of the One World Futbols, Matteo says, "At first, our educational programs in Africa were using balls they made out of rags and socks. We started giving them normal soccer balls. But then, we got to know about One World Play Project and that's when everything changed—because then the balls didn't deflate anymore. We started changing all of the balls we would give to Africa, Brazil and Italy with One World Futbols. They're the best we've ever used."
Roughly six months after the tournament and donation, Matteo says the soccer balls and jerseys provided have been really useful. They've been used in social tournaments of friendship in Italy. The One World Futbols are still kicking, and according to Matteo, the kids still stand a little taller whenever they wear the jerseys.
Sports for peace and the connective power of soccer
Muti Onlus and One World Play Project share a common mission: to see kids play, learn and grow. We believe kids are transformed by connecting with others, by building understanding and growing friendships.
We believe play creates bonds that transcend race, culture, gender and ideology. Through play, we come together, we heal, we laugh, we learn, we live in the moment, we move forward.
On a sunny afternoon in Turin, after the excitement of the donation and tournament had come to a close, Matteo said it best while sitting in the center of the soccer field: "To me, play is everything. It's the most important part of life because without playing, without having fun, what's the sense of being alive."
Donate a One World Futbol, or more, to Muti Onlus, today.

Related articles
Let's play: One World Play Project goes to Italy
Kid-friendly travel: a Tea Collection family adventure in Italy
Boys & Girls Club: a youth development program that gives back to the community