Witnessing the power of play through inmates at a Mexican youth detention center
Post by Emily Hopcian, marketing associate, One World Play Project
I recently spent a weekend in Monterrey, Mexico with our cinematographer Caleb Negassa, filming a story about our Make Life PlayFull partners Eugenio Monroy and Isaac Trevino Gutierrez of Futbol por la Paz.
Futbol por la Paz is a nonprofit organization dedicated to providing children in Mexico opportunities and resources to play. Leading up to our visit, the two founders had a simple idea that would further their mission. Eugenio and Isaac wanted to donate a portion of the 302 One World Futbols raised through their 2015 campaign to youth imprisoned in detention centers in Mexico.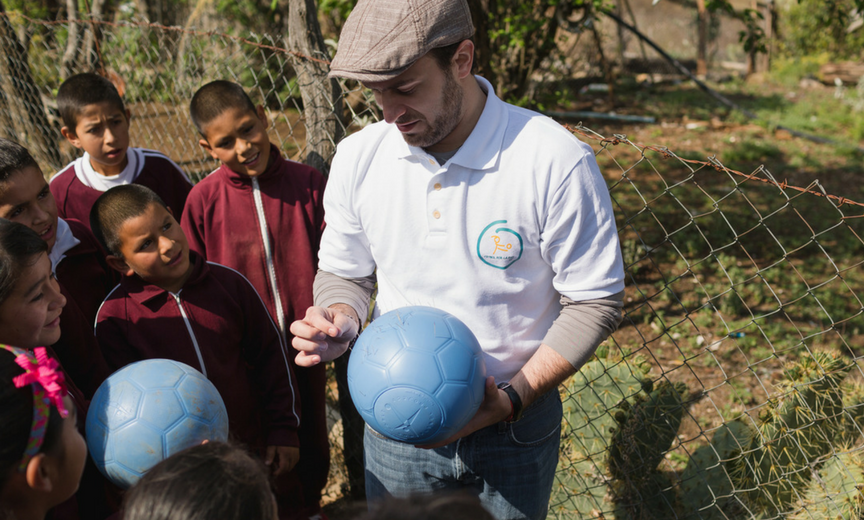 It was unlike any donation I'd experienced with One World Play Project, and I was eager to learn more about the youth as well as the impact soccer has on their lives. In Mexico, as in other parts of the world, gangs and cartels "recruit" young men by threatening to kill them or their family members if they don't comply. The young men do not always understand the extent of the crimes, but commit them anyway in order to save themselves or their loved ones.
Futbol por la Paz made all the arrangements, and on a hot Saturday afternoon in October, Eugenio, Isaac, Caleb and I traveled to a youth detention center in Monterrey to deliver One World Futbols and share stories.
Stepping inside a youth detention center
I'd never been inside a jail before, let alone one filled only with youth. I didn't have many expectations, but I did have a lot of questions. How big was the jail? How many young men would we meet? Why were they there? What had they done? How would they look? What would they be wearing? How would they respond to "outsiders," especially two Americans—one female—who spoke no Spanish?
When we arrived, two guards greeted us just inside the parking lot gate. Eugenio and Isaac pulled a box of 10 One World Futbols from the car and proceeded to show the guards the "magic" of the ultra-durable soccer balls. They squished and deflated the balls with their hands to watch them re-inflate on their own. No matter how many times I've seen that done, the reaction of the people seeing it for the first time never grows old.
As the guards examined and played with the One World Futbols, Eugenio and Isaac talked through our plans for the afternoon with them.
Soccer in a youth detention center
We passed through a gate, checked into the jail, went through security screenings and passed several other gates to an empty, quiet courtyard. It felt as though we were passing through an abandoned schoolyard.
We walked from the courtyard through what appeared to be an old bathroom and then through several more gates out onto a massive field where the young inmates—some in white shirts, some in blue jerseys—were playing soccer in the humid afternoon sun.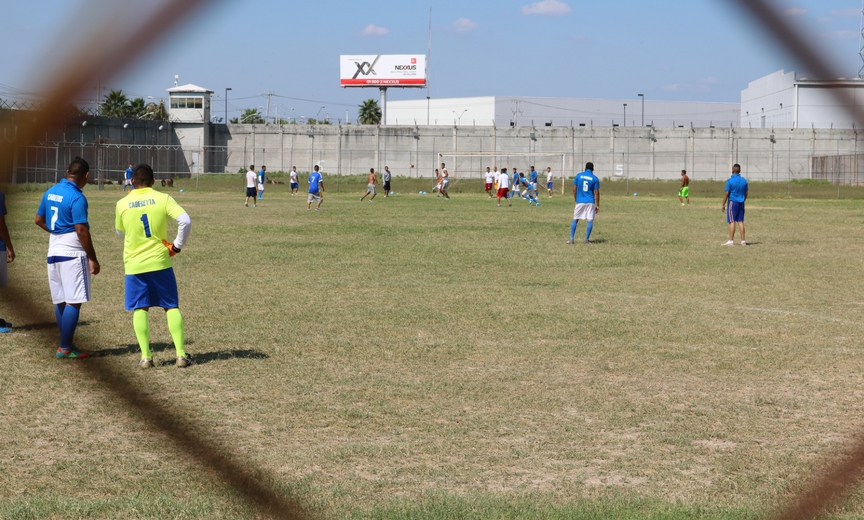 There were two goals, one at either end of the massive field. The goals' nets were tattered and had vines growing through them. The dusty lines marking the edges of the field were faded. Rocks, dirt and green and brown grass haphazardly covered the field. Layers of fencing and barbed wire surrounded it. Across the way, a guard tower overlooked the field from the jail's exterior wall, and beyond that wall, visible through the city's smog, I could see the outline of the mountains that surround Monterrey.
A group of inmates leaned against the fence in the shade of a small shelter made of scrap metal, watching others play. Save for a few sporadic shouts from the players, common in any soccer game, it was a quiet afternoon. Every once in awhile, I'd hear a honk or siren from the highway that runs alongside the jail's exterior wall, but inside the detention center, the world seemed to talk and move at a different pace. The air seemed heavier inside the jail. Perhaps it was the heat, humidity and smog, or perhaps it was the feeling of going nowhere fast.
Meeting Mario
The detention center's commander introduced us to Mario, a 21-year-old who's been in jail for four years for kidnapping a man on behalf of a gang in Monterrey. He's set for release in six months.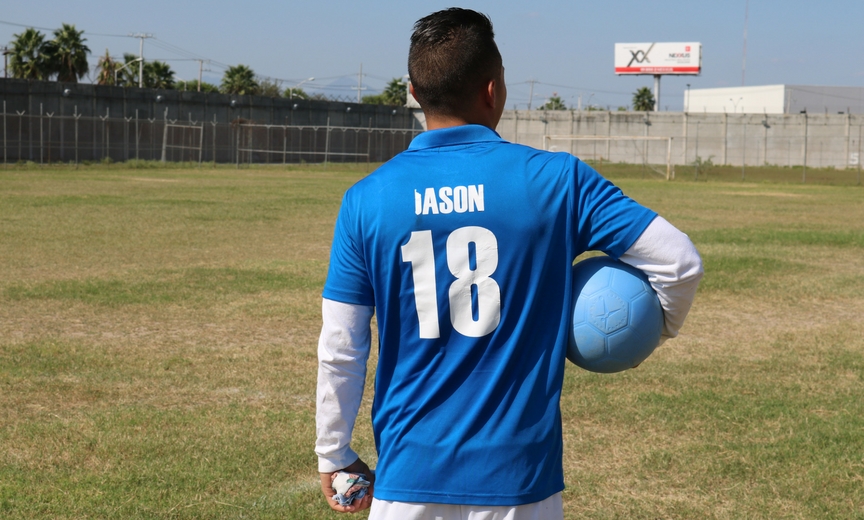 For security reasons, the jail would not allow us to film Mario's face during the interview. In fact, we couldn't film any of the inmates' faces during our visit. It was explained that the inmates would be in danger if the gangs learned they spoke with outsiders. So in order to protect them, we are only to show the back of their heads, their feet, hands and bodies as they talk with us and play soccer.
Since I don't speak Spanish, I spoke with Mario through Eugenio, and as I didn't know what he was saying before Eugenio translated it, I spent my time between questions watching Mario talk. I observed his eyes, his mannerisms and the gentle, careful way he spoke. I saw so much depth in his eyes, along with his youth, innocence, sorrow and naivety.
His life is so incredibly foreign to me, and it's painful to realize his story is not uncommon for many around the world.
Soccer and miracles
As Mario talked and Eugenio translated, I watched as he slowly rolled the One World Futbol on his right knee. In his left hand, he held a handkerchief. I asked him about it later. It was a gift from a friend. He talked about the design on it and how it speaks to the importance of miracles. It's a lucky charm for Mario. An ultra-durable soccer ball in his right hand and a handkerchief woven with miracles in his left. Two pieces of hope in a place where I'm sure it's tough to hold on to at times. Soccer and miracles.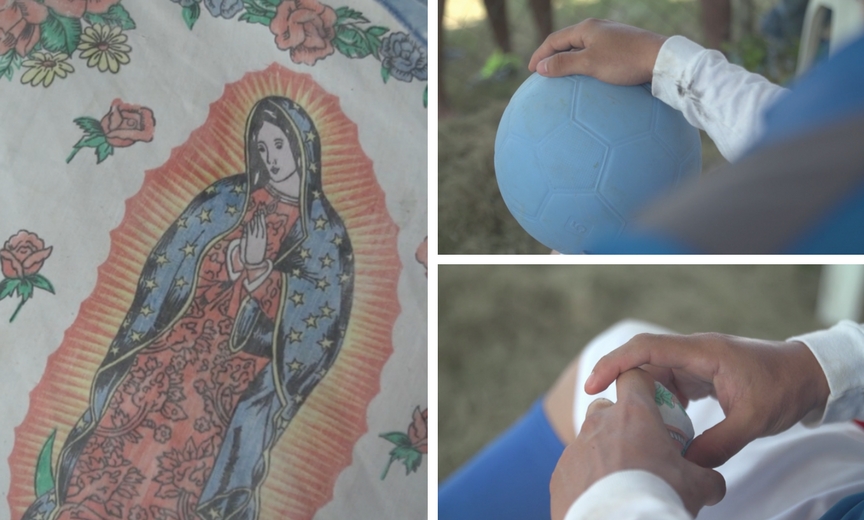 Mario has played soccer since he was a young boy. While he strayed from soccer, he's happy to be playing it again at the youth detention center. He said it helps him feel joyful and healthy, both physically and mentally.
During our visit, I noticed how connected the group of young inmates were. There was no fighting or bickering or picking on one another. I saw a group of young men practicing together and enjoying the freedom that a game of soccer allows.
These men were not restless or acting out, and it's my belief that their time on the soccer field has a lot to do with that. And in talking with a few of these men—through both Eugenio and Isaac—I know they have hopes and dreams for the future. For Mario and many of those young men, as is the same for myself and so many people around the world, soccer offers an escape in their day, a chance to be free, to be whoever they want to be.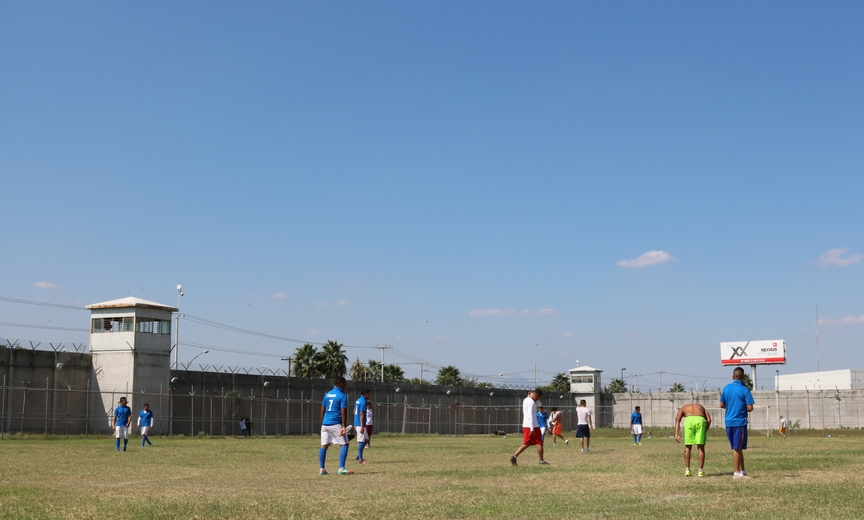 When my conversation with Mario ended, I shook his hand, wished him the best and smiled at him reassuringly. He nodded his head and returned my smile with a shy one. I was going to leave while he'd remain locked up for another six months. I do not know Mario's entire story or the extent of the crime that landed him in the youth detention center, but it didn't seem to me like he belonged there. I truly hope he finds himself in the best way when he leaves that jail, and I hope he remembers the positive influence soccer can have on his life.
Delivering ultra-durable soccer balls
When Eugenio, Isaac, Caleb and I walked to the sideline with some of the guards and a box of balls, a few boys came over to see what was going on. Others continued to play. Once a small group had gathered, Eugenio and Isaac pulled a One World Futbol from the box. Upon seeing the blue soccer ball, more boys came over to the sideline. Eugenio and Isaac addressed somewhere between 30 and 40 young men. They told them about Futbol por la Paz, the One World Futbol and explained why they were donating balls to them.
The duo gave a brief demonstration, and someone tossed the ball into the barbed wire surrounding the field. The ball survived the test, as it always does, and the inmates were impressed. One boy climbed up the fence to carefully fish the ball out of the wire. He dropped it to the ground, and the others picked it up to examine where the barbs had left a mark.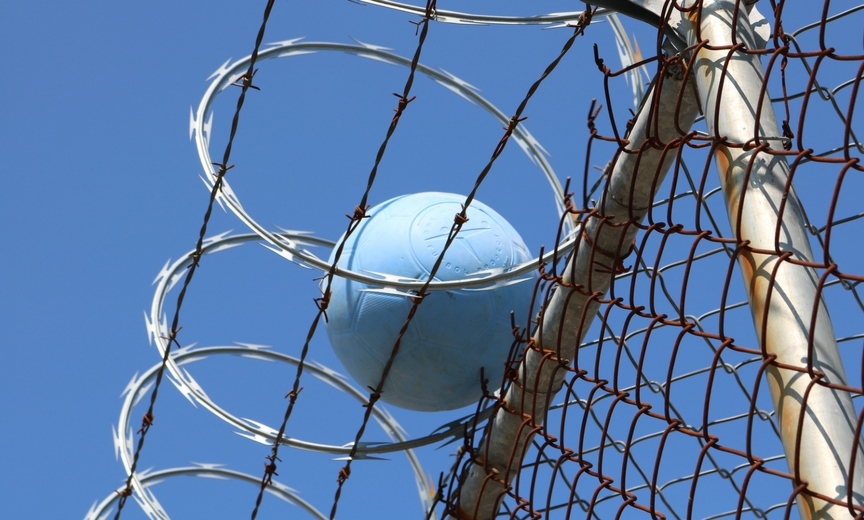 Jail: a place where play resources truly are scarce
One young man told Eugenio and Isaac he couldn't believe they'd brought these balls special for them. The inmate was right; this was truly a unique giving opportunity.
Our team and partners often donate One World Futbols in communities where standard soccer balls go flat in a matter of hours or days. In those communities, when a standard soccer ball is inaccessible, the children will play with whatever they can make or find: plastic bottles, ragballs made from plastic bags or plants, etc.
But when a soccer ball goes flat in a jail, there's nothing else to play with. There are no plastic bottles to kick around. There's no garbage to tie together.
In that moment, as I stood among the young inmates and watched Eugenio and Isaac demonstrate the durability of the One World Futbol, the profoundness of this particular donation struck me. Futbol por la Paz was donating One World Futbols to a group of young men that, in many ways, needed them more than most.
Soccer for peace in a youth detention center
Following Eugenio and Isaac's brief presentation, the inmates returned to the field with the One World Futbols. Isaac joined them. From the sideline, with Eugenio's help as a translator, I spoke with the commander, asking him questions that'd been running through my mind since we'd arrived.
The commander, a man of average height with a dark mustache, black boots and a captain's hat, told me the boys usually play soccer every day for roughly an hour and a half. They go to classes in the morning, and in the afternoon, they play soccer and attend a carpentry class. Typically, they play soccer with a standard soccer ball, which he explained lasts about a week.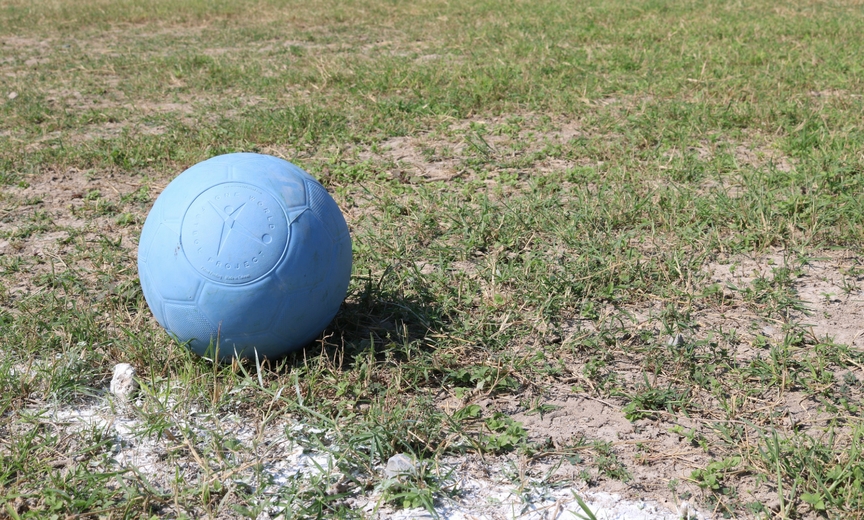 He said the jail tries to make sure the boys have at least one soccer ball at all times and that they replace the game ball weekly using donations from outside agencies. This got me thinking: our One World Futbols will now help free up that money for other uses.
I asked the commander if he believes soccer is good for the inmates. He said he sees the sport as healthy for the boys. It helps them keep healthy bodies, and it lifts their spirits. He also explained that an afternoon of soccer will leave the inmates tired and at peace for the day; it gives them something to do.
An unforgettable giving trip
Eugenio and Isaac were gracious, generous hosts. Their passion for Monterrey, its people and soccer runs deep, and it's easy to see why they were moved to start Futbol por la Paz.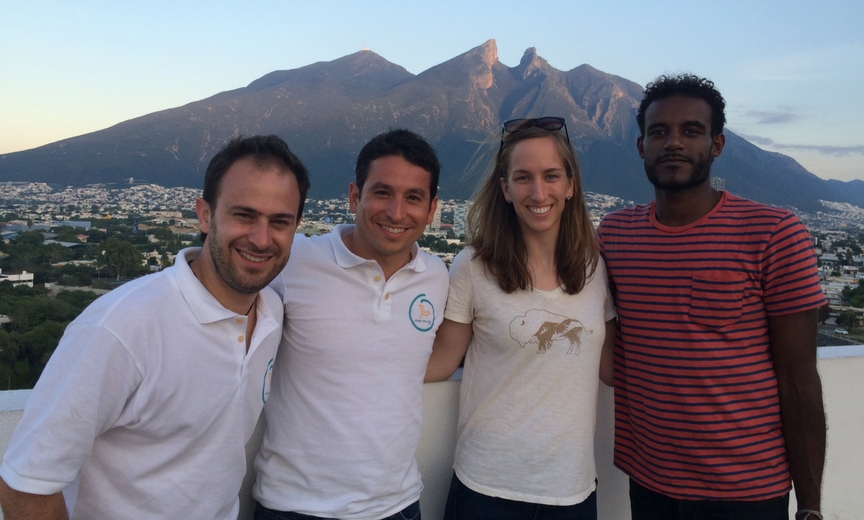 One of the best aspects of my work is meeting our inspiring partners; seeing where they live and work; and getting to know them, their communities and their programs. The experience is always eye-opening, and Mexico was no different.
During my time in Mexico, the people I met and the stories I heard reflected the complexities of life there. Our visit to the youth detention center in Monterrey filled me with hope as I learned about the life-changing importance of play and understood even more clearly why both One World Play Project and Futbol por la Paz do what they do.
Support Futbol por la Paz today
The youth detention center is one of many places Futbol por la Paz has donated One World Futbols. Through their first campaign, the nonprofit has donated 302 soccer balls to children in five Mexican states. But there's still much work to be done within those states and in the country's 27 other states.
Give to the Futbol por la Paz campaign today and help them teach peace and conflict resolution through play.

Related articles
Raising soccer balls to make a difference in Mexico